"Life is sweet"
Happy World Macaron Day! It's not only Friday and the first day of spring, but also a day dedicated to the sweetest of treats. I'm celebrating World Macaron Day, which takes on a holiday-like feel due to my massive love for macarons.
Let me share a teeny bit of World Macaron Day history so that those of you who aren't as obsessed with macarons as I am will know what's going on – the great Pierre Hermé a.k.a. 'The Picasso of Pastry' started this day over seven years ago as a way to market macarons while also raising funds for cystic fibrosis. Proceeds from today's sales are donated to charitable causes while the customers are also given a free macaron. This has helped the day to gain attention outside of Paris and over the last few years has snowballed into a worldwide celebration with shops in the U.S., U.K., Canada, Japan, and Thailand participating.
French pastry chef Francois Payard is the reason the day garnered more attention in America. He carried the tradition over to his pastry shops in NYC, where he collaborates each year with several other pastry chefs to pool together both the marketing attention and the donations/proceeds which go to fund City Harvest, a food rescue program in the city that feeds the homeless. A sweet treat and a good deed all in one is not something I can pass up.
Luckily our new chateau is near a French macaron shop and they make the yummiest creations (outside of Paris and Pierre Hermé of course) so I was able to run over there this morning to purchase my favorite flavors (pistachio, rose, and lemon) along with a few more to share.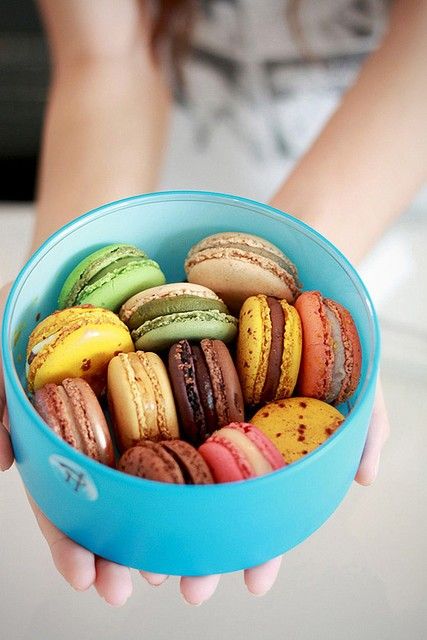 "The macarons, though only a few grams, agitate our senses. The eyes have already devoured them. Fingers skim their surface, the flavors are gently smelled. When their fine crunchy shell is crushed, the ears are excited by the sound. Then the mouth experiences a delicate grace…" – Pierre Hermé
I've mentioned macarons so many times in previous blogs, but I just can't help myself from talking (and eating!) them often. Macarons are my favorite indulgence. Those two colorful almond meringue shells filled with luxuriously smooth ganache are so much more to me than just "a cookie". Whether it is traditional flavors or similar to the bold creations Pierre Hermé creates, every time I take a bite of a macaron I am instantly transported to my first macaron taste, along with my first time traveling to Paris.
The Husband (The Boyfriend at the time) had heard that Pierre Hermé creates the best macarons so we immediately went to his shop on Rue Bonaparte upon arriving in Paris. The tiny shop was filled with the most gorgeous pastries to choose from and macarons of every flavor imaginable (and some that seemed impossible flavorings too!). We carefully selected our macarons and took them (along with my first "real" French croissant) to the St. Sulpice fountain across the way where I took the teeniest bite to start and haven't stopped swooning over macarons since.