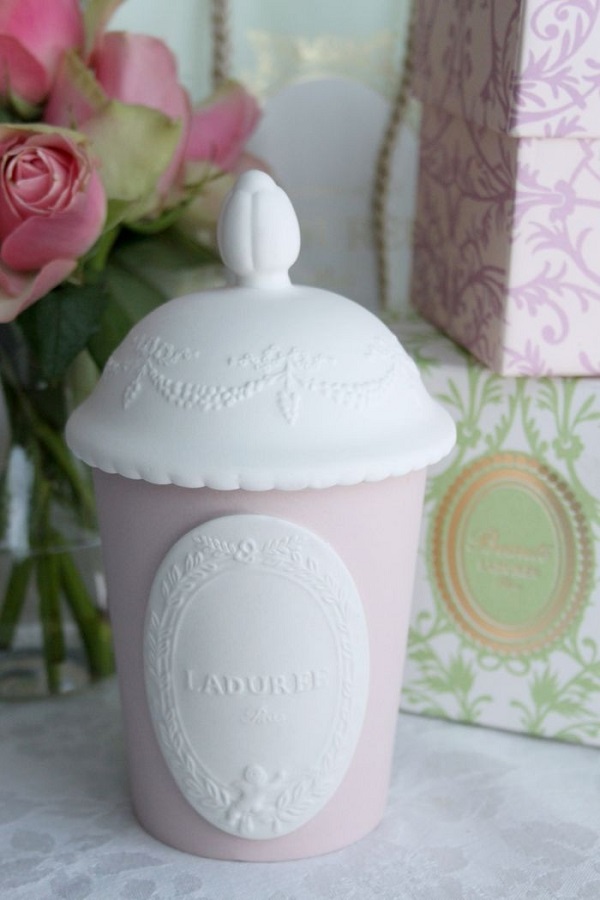 Th air in Paris is something that is almost intangible; whether its the rainy springtime scents, cold winter days, a freshly baked baguette, multitudes of flowers, or a sweet scent of French pastries, the very air in Paris is magical. Replicating that scent in the US is not easy, but I try to bring in a little touch with scented candles.
One of my favorite candles is a splurge-worthy candle from Ladurée NYC. I have often joined in on the Pierre Hermé versus Ladurée macaron debate, with Pierre Hermé coming out as the winner in my opinion. Pierre Hermé wins for original flavor combinations, consistency and texture (to justify this opinion I did an extensive macaron tasting while living in Paris last fall – tough job, I know but..) With that said, I do have a massive weak spot for the overall delicate look of Ladurée itself.
During that springtime trip to NYC, I stopped off at the Ladurée Madison Ave location for a couple traditional flavor macarons (lemon and pistachio) to enjoy in Central Park. While in that tiny frothy shop I fell in love with the candle selection. The scents are soft, the packaging is a delightful continuation of the Ladurée style with porcelain containers and small cameo designs on the front that all combine into candles that are sheer bursts of pleasure to look at. After much debate I finally settled on one for its faint scent and lightly colored porcelain container (at $60 each one candle was my limit!).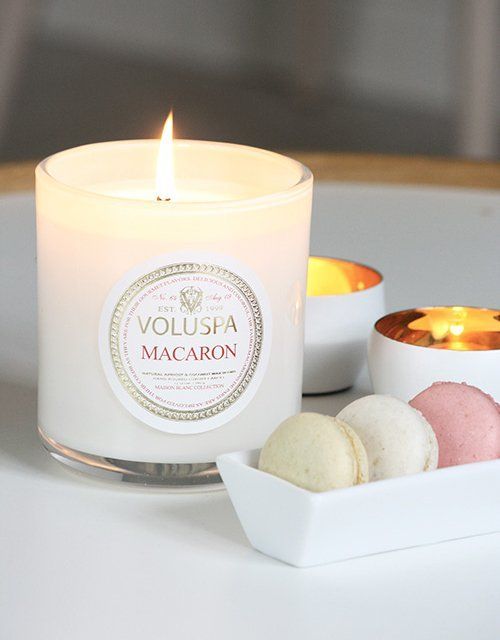 Thankfully, over the last few years I have also discovered a few tried-and-true candle brand favorites that are more affordable, since I only burn that special Ladurée candle occasionally to make it last longer. One of my new favorite candle brands is Voluspa. They are fairly affordable (under $20) in detailed metal tins or milky glass containers that look beautiful on any surface and have a clean burn since they are made of coconut wax. The macaron scented Voluspa candle has quickly become my inexpensive way to still have a consistent touch of a Parisian delicacy.
I have multiple candles on nearly every flat surface (to the husband's dismay sometimes) from romantic floral notes in the spring, lemon in the summertime or the warmth of cinnamon and vanilla for fall and winter as I firmly believe in matching the seasons with scented candles. They are my all year necessity for the feelings these scents evoke.