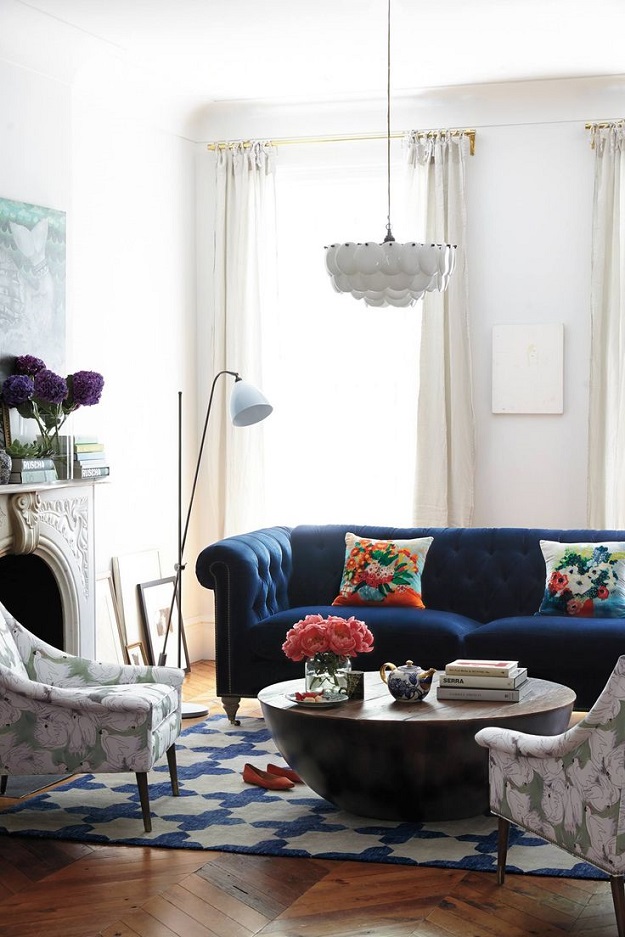 Choosing the vibe that we want for our new chateau was pretty easy for The Mister and I. We both want a home that is modern (more here), but with a vintage feel mixed in. After having lived in Europe we appreciate the European aesthetic of combining the old with the new. While we will have a modern kitchen, we want the living room to be a combination of modern and vintage.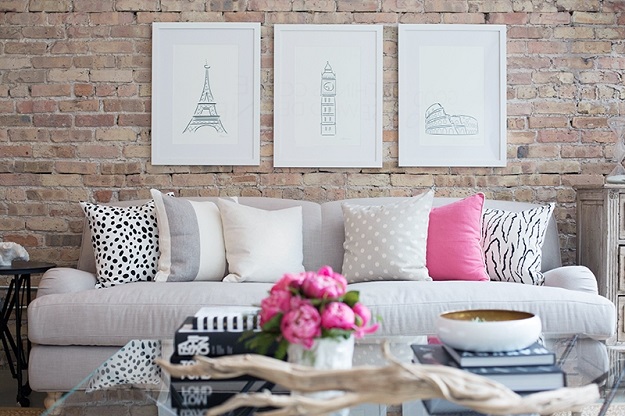 One way we are hoping to create that old and new is with the sofa – we are leaning towards a Chesterfield sofa, but have to choose fabric and color still. I'm extremely torn on this decision because it is such a big purchase. This large piece will determine much of the room and its decor. While part of me loves the idea of a blue velvet sofa, I fear I will end up becoming tired of the color too quickly, so I'm leaning more towards a soft grey, but then have to choose either velvet or linen.
Within this room, we will also have to include a few modern touches via lamps, tables and a few other accent pieces (I'm dying for a golden Jonathan Adler pouf!) to stop the space from becoming too vintage or "girly".  I have a multitude of knick-knacks, along with a preference for all things pink, but want to tone those (instinctive choices) down in preference for a mix of soft greys and whites to allow my favorite decorative pieces to pop against a neutral background.
I have the time to shop for our perfect sofa though – our planned "easy" changes morphed into much more when we decided to not only change the second floor flooring, but also the bathroom tiles, cabinets and showers, along with changing the first floor flooring, kitchen cabinets and countertop. While it's disappointing to have to wait to move into our little chateau, the changes are exciting and I love having the additional time to decide on what types of furnishings we want to buy. But I can't be too indecisive since we have guests lined up to visit and need to have places for them to sit, sleep and relax!