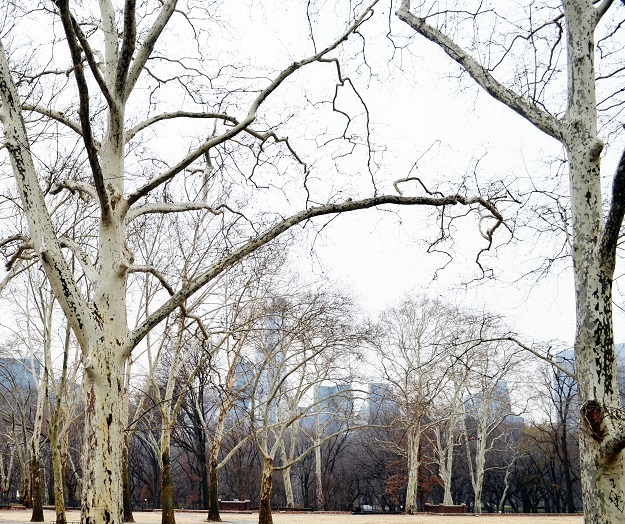 "You have to be silent, utterly silent, not even a flicker of thought – and the beauty explodes, reaches to you from all directions. You are drowned in the beauty of a sunrise, of a starry night, of beautiful trees." – Osho
As I sit here listening to the ice rain pouring down my window, I keep reminiscing about a similar stark feeling as the Mister and I walked through Central Park in December. It was a cold, windy day with barely anyone in the park as we meandered through the park, climbing high to discover an area we hadn't seen before. Stumbling on this circle of trees I was struck by the simple beauty of the bare white trees and silent air around us.
In the midst of this bustling city we found a quiet landscape and enjoyed the stillness around us. We stayed to indulge in the peaceful surroundings, I marveled at the silence and wonder while the Mister stepped off to the side to look down on the the park and its beauty spread out below before exploring further and finding a few more moments that struck us each…finding a single Christmas tree on a canoe in the water by the boathouse locked up for the winter, a fluffy squirrel preparing for winter, strolling along under a lamppost along the steps with no one around, and finally an older couple enjoying their own walk through the park that had me thinking of our own future vacations together.