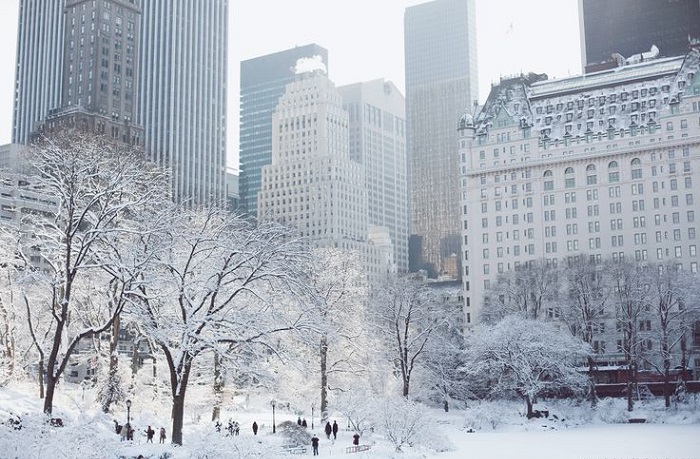 With the holidays here, it's a season of traditions and one of my favorite traditions that the husband and I have is an early Christmas in New York City. During our dating days we each spent Christmas with our families and so we would do this mini Christmas together with stockings, gifts and a special dinner while taking in Broadway show and seeing the decorations.
Those three days in the city were always so special and I'm happy that we have continued the tradition, even though we spend Christmas together (this will be our 3rd Christmas together!). Because we have been doing this tradition for several years we have our favorite places to eat, shop, play and well, eat some more! Here's my list of the best way to spend a few days in New York City during the holidays.
Sights/Walks:
Central Park – I have a thing for parks in general and this one is always at the top my list. There are few things as magical as walking through a park as the snow falls softly down, muffling the sounds around you, watching couples walk hand-in-hand, strolling through the zoo, and watching the ice skaters is a must.
New York Public Library/Bryant Park – My other must-see park. I can and usually do spend hours at this square. Since the first time my mom took me here when I was 5 years old to today, I love to get a hot pretzel from the corner and sit on the steps people watching before heading inside to meander through the books. The shop on the first floor also sells unique books that make great gifts. Afterwards Bryant Park and its little square behind the NYPL is the perfect outdoor location their holiday shops set up throughout the park that offer sweet treats, hot drinks, savory foods, chocolates, and gifts. I'm always guaranteed to find at least one or two Christmas presents (and several for me!) along with seeing the gorgeously decorated tree that rivals Rockefeller Center's tree for me, and another ice skating rink in case you didn't get your fill of skaters in Central Park.
Holiday Windows – Up and down 5th Avenue you will find every storefront decked out for the holidays. My favorites every year are Lord & Taylor, Tiffany & Co, Henri Bendel, Bergdorf Goodman, and Macy's. We usually go later at night once the crowds have died down. It's colder but worth the extra chill because you can linger over the wonder that has been created in each window without having to crane your neck around a pile of people.
Walk in the snow – Wherever you are in the city, if it starts snowing ignore the initial thought that it's too cold or gross to go outside. Instead, layer up in your warmest coat, Christmas-colored beanie, gloves, Sorel boots and head out into the city. There is a soft, peaceful air that falls over the whole city as the snow falls since most people head indoors. Some of my favorite moments have happened when we walked through the city in the snow, whether  with my family following the Thanksgiving parade when I was 13 or with the husband as we wandered around Central Park in the snow and come across a group of carolers, there is something magical in the air as the snow falls down around you.
Rockefeller Center – The tree is a must see, from its sheer massive size to the matching oversized ornaments, along with the general Christmas feeling in the air, and the the ice skaters are another must-see.
Eats:
La Maison Du Chocolate – This French chocolate shop has wonderful chocolates, along with the seasonal bûche de Noël, but we always go for the hot chocolate. It is rich, thick and meant to be savored. After wandering around in the cold for a few hours there is nothing quite as delicious as this hot chocolate served to you in one of the tiny tables at the back of the shop where you an slowly sip your way back to warmth.
Shake Shack – We always go to the Madison Square Park location, even though it's outdoors so we shiver while eating our burgers and sipping our milkshakes (yes, in the cold!) but the cold chill is worth the effort because this is one of the best burgers you will ever have. I also like to think that all that shivering helps me burn a few extra calories. This time around that location is closed so we may have to go indoors, but I'll count the walk there as my extra calories burned!
Sweet Revenge – Cupcakes and wine pairings with dreamy Christmas lights strewn about. It's a girl's perfect date location. MUST go.
Baked by Melissa Cupcakes – There are several locations for the teeny tiny scrumptious cupcakes. I can't wait to try the seasonal hot cocoa and mint cupcakes. Even if you just pop in to grab a few to go, they are a must for every visit….and each tiny cupcake is less than 50 calories!!
Shop/Do:
Barneys- The beauty department gets me every single time. The vast amount of products they offer is nothing short of amazing and the shoe department is heavenly.
Tiffany and Co – Because we all have to have our Holly Golightly moment.
Henri Bendel – A girly, frothy store filled to the brim with accessories. Two floors of accessories.
Dream Dry – It's not holiday specific but getting a blowout while you're in the city makes you feel like a regular, along with ensuring good hair for all your holiday pictures and moments and as we all know, good hair makes everything better.
We'll be in the city next week from Monday to Wednesday so follow along on Insta for some holiday moments! I have a list of new places to check out so I'll be doing another post once we get back with my new favorites. Any recommendations? Will you be in the city for the holidays? Comment if you have any questions or suggestions!
See more of my favorite Christmas in New York travel here.