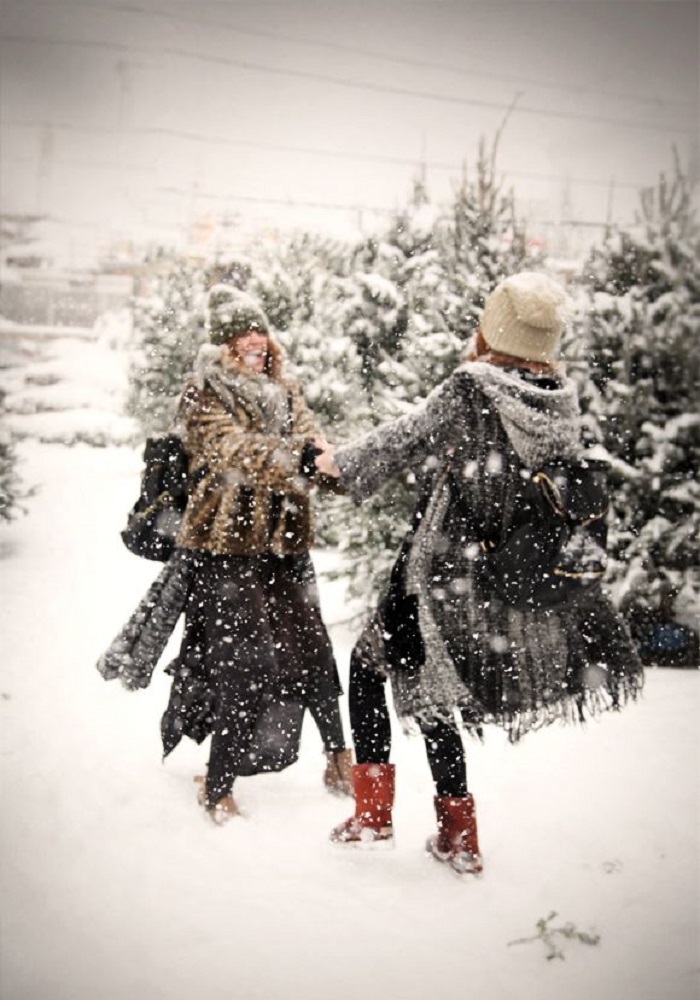 1. Wrap up in your most festive scarf/hat combo. I'm obsessed with my plaid blanket scarf (similar) and just added the most perfect shade of Christmas red hat and gloves to my winter wardrobe.
2. Create a hot chocolate "bar". I did this Christmas morning last year and it was such a big hit I'm starting it early this year.
3. Most of us will have a snow day or two this month so let your inner child out, throw on your favorite snow boots and winter gear to play, build a snowman, start a snowball fight or just go for a walk in the snow. Get out to enjoy the wonder of the snow falling down around you.
4. Combine date night with a holiday theme – watch a Christmas movie, take a trip downtown to see the Christmas tree, go ice skating, or see a Christmas play.
5. Create your own holiday mugs for a date night/family fun thing to do. Go to a local pottery painting store and create your own Christmas mug masterpiece. If DIY isn't your thing then this or this is the perfect mug to buy.
6. Take a tour of the Christmas lights that are out now. Whether in your own neighborhood bundled up as your walk around (preferably carrying a mug of hot chocolate to keep you toasty warm) or driving through the city to tour the professional lights, enjoy the wonder and magic of entire streets lit up to welcome in the holiday.
7. Have a cookie swap or baking/decorating party. Nearly all of us will be baking some sort of cookie this holiday season, so why not turn it into a party with friends, coworkers and a little wine on the side?
8. Start playing the Christmas music. As soon as Thanksgiving passes (I only take a break for my birthday on Dec 6) I play Christmas music all the time. It's such a short period of time, the songs are full of fun, joy, hope and good will so I can't help but love every second of playing these tunes. Especially Mariah Carey. .because what is Christmas without Mariah singing "All I Want For Christmas"?
9. Christmas pajamas are one of my favorite traditions. Whether you wait for Christmas Eve or start early (I can't wait much longer) there is something so nostalgic and fun about putting on a festive pair of pajamas during the holiday season.
10. Get a holiday-inspired manicure. There are so many fun shades of red (loving the dark shimmer shade in Scarlett O Hara) and gold glitter so this is the perfect time to break out a new and festive color.
11. Take a trip – somewhere warm (tropical break?) or even colder, but see if you can get out of town for a few days before the Christmas travel frenzy hits and enjoy someplace different. We have done the holiday season in London and Paris (gorgeous!) and every year the husband and I do three days in mini Christmas in York City and it's one of my favorite traditions.
12. Pick your favorite Christmas movie and make a tradition of watching it every year. At least twice. Preferably with a big mug of hot chocolate and a favorite snack (I'll be trying this easy-to-make recipe!)
And may one more to do – Be Grateful. With all the hustle and bustle that goes on during the holidays, it can be hard to remember just how lucky we all are. Take  a minute each day to think of one thing (just one!) that you are grateful for that day and remember to always enjoy the moment. Time slips by so quickly and things are always changing. Enjoy and be thankful for the happiness you find in your life each day. Happy December!