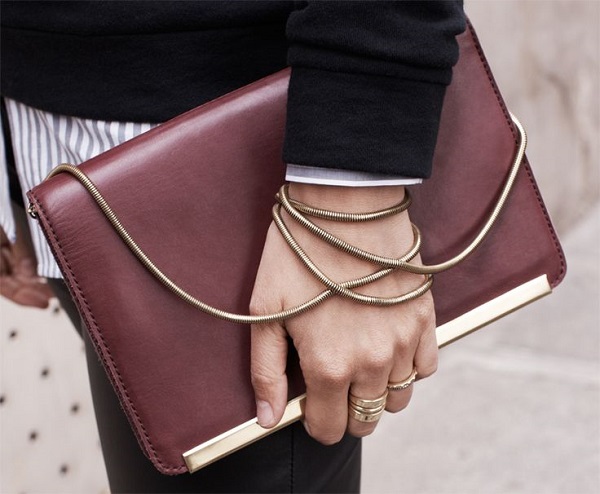 I didn't add being frugal to my list of resolutions (I know I'd fail that resolution within the first month!) but I do want to focus more on my signature style. I prefer neutrals, minimalist style and classics, with a touch of girly, pink and glitter thrown in here and there. I recently went through my closet and found a favorite accessory I hadn't used in months.
I bought this slim-lined Madewell clutch last Fall before going to Europe for a few months. It was the the perfect bag to use as its minimalist style fit right in with the European aesthetic, the long snake chain could be worn as a cross-body or wrapped around my wrist, and it held my basic needs (wallet, lip gloss, sunglasses, hand lotion) for a day (or night) of running around.
The burgundy shade add a tiny pop of color against my neutral-heavy wardrobe and the gold accents allow for the clutch to be easily dressed up or down. This clutch also serves as a reminder to shop my closet instead of also searching for that next new must-have item. Do you have a favorite accessory you've recently rediscovered or have never stopped loving?