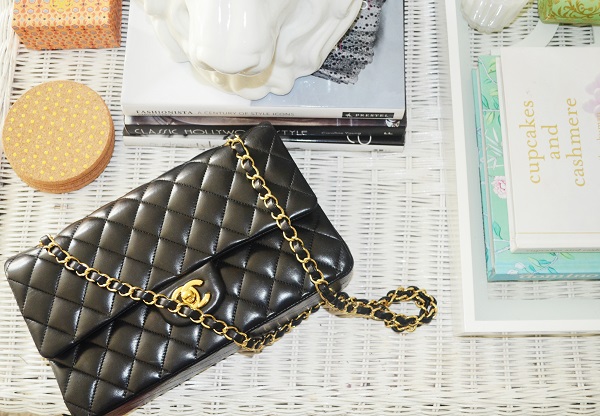 In honor of National Handbag Day (in it's second year) I couldn't resist combining this day that is dedicated to my favorite accessory with Friday's Top Five to show you my five favorite purses because I love handbags. Like LOVE handbags. New shoes excite me, but handbags get my pulse racing in a way that even a pair of Valentino Rockstud flats couldn't (although that shoe is on my wish list). I am open to all types of handbags – from the practical tote bag to a delicate, tiny bejeweled clutch I love them all.
But let's start with the bag I dreamed and wished of for as long as I can recall – the Chanel Quilted Flap 2.55 Bag. The husband bought this for me as a "Merry Chanel Christmas" (truly the greatest man ever) and I could barely sleep the night before we went shopping for the bag in NYC during the Christmas holidays. The details on this bag from it's iconic quilted stitching to the hidden pocket for "love letters", and on to the burgundy interior lining that recalls Coco's early days growing up in a convent are exquisite throughout. The gold chain adds a lovely touch of "jewelry" to the simplistic styling of this bag and the delicate nature of the lambskin leather used adds to the appeal of this purse as it mars the line between practical and impractical (my favorite sort of thing). In my eyes this bag is truly a hand-stitched work of art.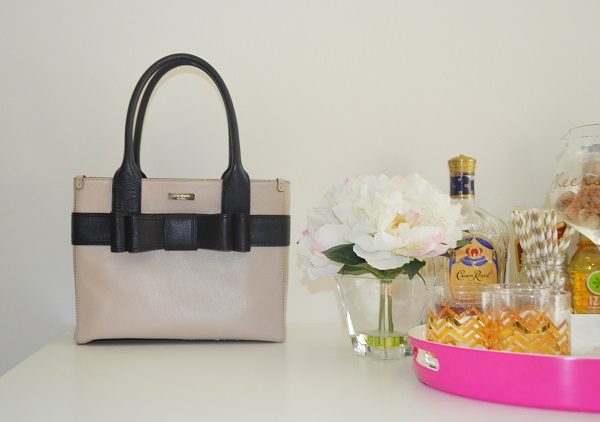 This Kate Spade color-blocked handbag was a recent find and it is has quickly become a go-to everyday handbag. While I have always steered towards crossbody bag for their practicality, this bow-detailed handbag is more diverse than I originally expected – the nude and black tones work with a myriad of options, the two interior pockets are large (holding my laptop) and the adorable black and white polka dot lining is an unexpected pop of fun for this rather grownup purse.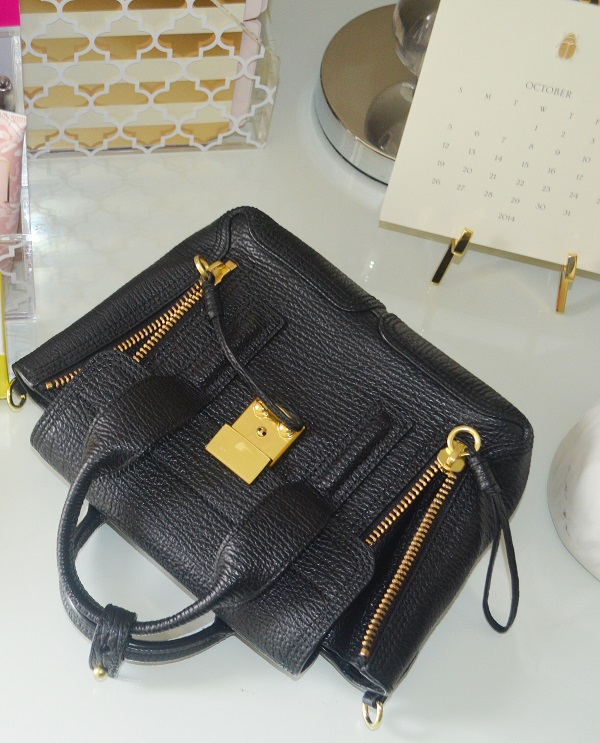 This 3.1 Phillip Lim Pashli Mini is not the impractical tiny bag I originally thought it would be – instead, this slim crossbody bag with its top handles and easily expanded size (the little side zips do allow it to expand well) holds my wallet, makeup pouch, keys and other odds and ends with ease. I've even managed to cram a water bottle into the leftover top space in a pinch. This bag is also just the right accessory for adding a touch of downtown styling to any outfit.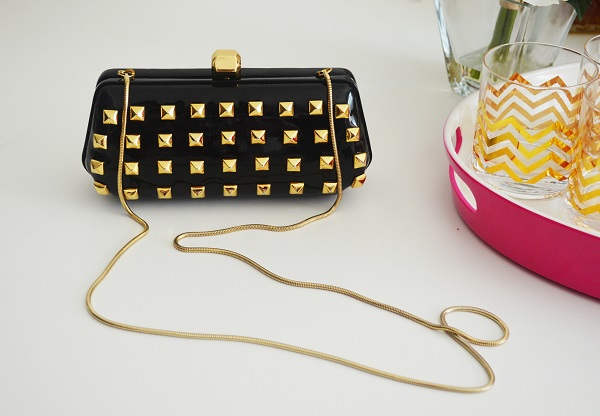 Several years ago my mom and I were in New York City for the holidays and we stumbled into Henri Bendel, the mecca store for accessories and as we walked in I spotted this Rebecca Minkoff studded clutch. I loved everything about this clutch – its patent finish, bold gold studs and matching slinky chain strap, along with its easy snap top and sweet bird fabric interior. My mom (very kindly) bought this for me as a birthday present and although I've added on a few clutches since then this is the one I always return to for a touch of edginess to juxtapose against a softer outfit.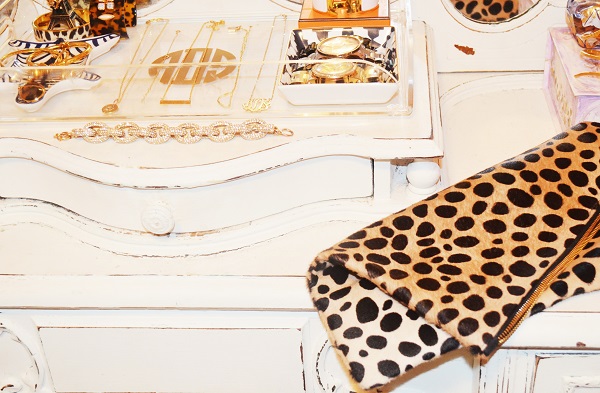 My other go-to clutch is this leopard print Clare V foldover clutch. A touch of leopard with this clutch is the easiest way to add a pop of the classic pattern  and is more versatile than you would initially think – the leopard is done in a smaller scale and it easily mixes with solids, stripes and prints, while the foldover size hides how bog this clutch actually is as it can easily hold as many items as a regular handbag.