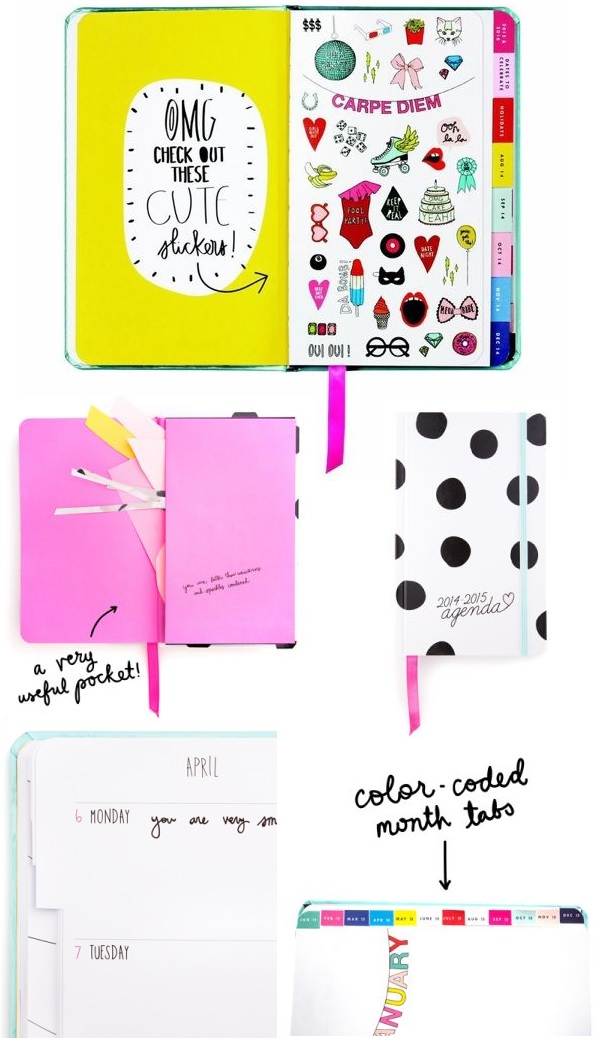 One of my goals from my 101 Things To Do in 1001 Days was to become better organized about dates/events. I have a tendency to over plan myself, trying to do too many things in one day or forgetting previous commitments and adding on to them. I have tried agendas in the past but rarely followed through after the first week.
I started looking at Ban.do products a few months ago and have fallen head over heels for their fun products. I spotted this 17-month agenda  in store at Nordstrom and knew it was the perfect match for my organizing wishes.
The happy black and white polka dot exterior caught my eye right away, while the practical hard book finish that wipes clean and ensures the planner won't fall apart when I throw it in my purse or tote bag each day thrilled me. The agenda is full of bright pages, color-coded months, cheerful drawings, fun comments ("You are better than unicorns and sparkles combined" is my personal favorite) and illustrations for each new month.
The planner also includes stickers (why not?!), unexpected but worthy of celebrating holidays like National Ice Cream Sandwich Day, along with inspirational notes and ideas at the bottom of each weeks layout. Until this planner I never knew being organized could be so fun!