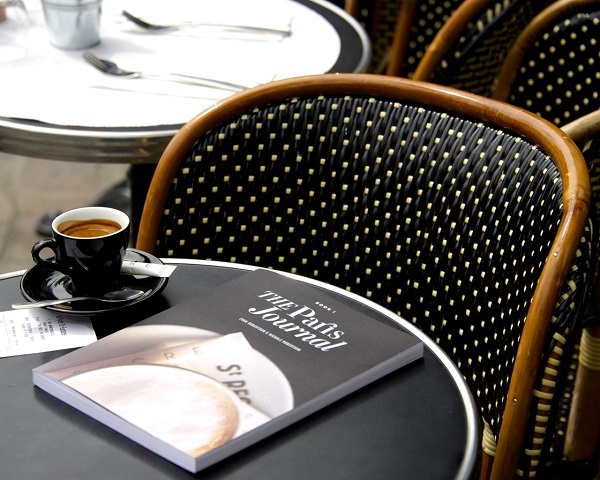 Just like a decadent macaron, The Paris Journal is a treat to be savored. This unique take on a day in Paris is not your average travel book with monuments, museums and the like. Instead it is told through the perspective of one woman as she arrives at dawn in Paris. She has no plans for the day, merely allowing Paris to tell her where to go, what to do and what to eat as the day progresses. The travel story is told throughout the day as each hour passes in Paris, as the jet-lagged American strolls along the city inventing quirky stories for the Parisians she observes, along with detailed matte shots of coordinating moments in the city.
I miss Paris every day, but this delightful book took me back to some of my favorite sights and memories of this beloved city.  Towards the beginning of this pictorial narrative the jet-legged traveler goes to a local café to partake in that Parisian coffee custom. I am not a coffee drinker at all, but would often do the same at cafés around Paris to watch the Parisian world go by, taking part in their ritual in this small way of my own. As the author noted "I'm here to be here. I'm here to be a part of it". That quote sums up exactly how I felt each time I sat down with a tiny cup of coffee.
One of my favorite lessons I learned well in Paris was the French preference to indulge with moderation; a small scoop of gelato, a warm Pain au chocolat on a Sunday, or a lovely glass of champagne. Each of these wonderful treats are enjoyed just once in a while rather than every day, with each sip or bite savored rather than devoured. In Paris the delicacies surround you on every street. The scents overwhelm your very senses. Turning the pages in this journal had the same effect on me. I had to use every bit of my Parisian-influenced willpower to not devour the book, but rather savor it as I slowly read each entry and took my time with each photo. This is only the first in a series for The Paris Journal and I am looking forward for the next book release to take a visual stroll through my favorite city.
As asked in The Paris Journal, do you know what you would do with a day in Paris?