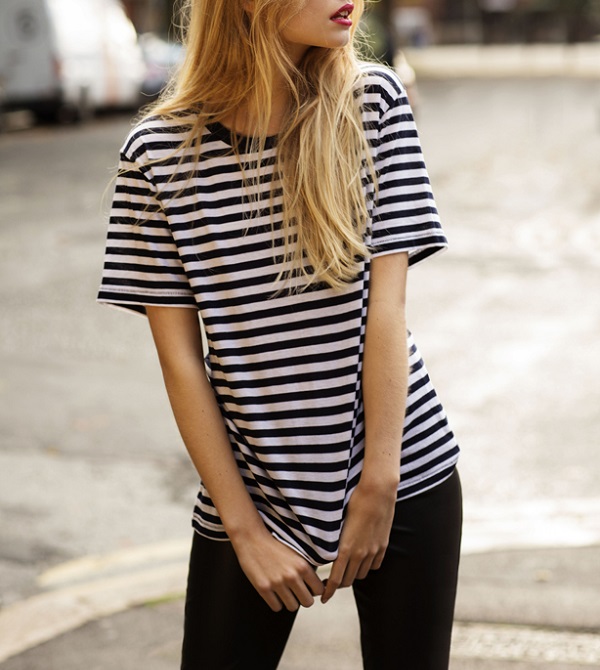 Europe. France…Paris. French style. I am feeling that familiar craving I often suffer from; a need to travel abroad, more specifically to Paris again. I miss Paris often and lately I have been wanting to escape to my beloved city even more. Unfortunately that isn't possible right now. So I will try to appease myself in my favorite little ways – from reading my favorite French books to popping on that one piece of clothing that screams Parisian Style. The striped shirt.
The quintessentially French wardrobe piece is just right for when my French cravings hit me hardest. The striped top (also love this one) is easy to wear, instantly dresses up any ensemble and pairs with solids, prints or other stripes. I prefer to wear my striped top in a loose, boyfriend cut for that androgynous typically French feel and pair it with my favorite black skinny jeans. The slim pants create a simple background canvas for the striped shirt to stay the center of attention. I like to finish off this look with long, messy waves or an equally messy topknot and a soft red lip.
I admit that nearly all of my wardrobe musts come from some form of an idea of how they will work in a given situation, location or momentary wish to be in another lifestyle. During those moments of wishing I was back in Paris, I like to envision myself in this classic ensemble while walking to a nearby cafe in Le Marais with a misty glow in the air (like a Woody Allen film) and ordering a small glass of wine to enjoy while watching my fellow Parisians walk by. I just may have to play a few Edith Piaf tunes on my vintage style record player.