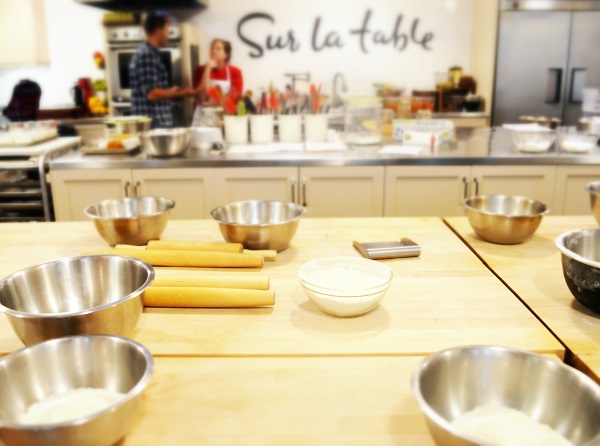 "Try new recipes, learn from your mistakes, be fearless, and above all have fun" – Julia Child
Every time I travel I try to take a cooking or baking class in whatever city we are in – it's the perfect way to meet a large group of people with something in common (food brings everyone together!) plus it's a way to feel involved in the community, while also coming away with something more than your standard tourist purchase. I've created French desserts at Le Cordon Bleu in Paris, learned to make savory crepes in Chicago, mastered French macarons in DC, and have had the yummiest carb-filled night of pizza baking and gelato churning in Florence, Italy.
One of my must-go spots while in South Florida is Mizner Park – this pretty outdoor shopping center with its palm trees, fountains and symmetrical architecture also boasts the most delicious ice cream shop (plus a new macaron shop!), our go-to Mexican restaurant and a variety of retail stores, including Sur La Table which offers year-round baking classes. I signed up last minute for their "Take and Bake Holiday Pie" class the afternoon before Thanksgiving (hello, 50% off discount!) because I've been dying to learn how to bake a pie and wanted to meet more people.
The class was just as fun as I had hoped for with the head chef teaching us how to create fluffy pie crust and I met the cutest mother/daughter baking team, along with a semi-professional baker, and a few others who were full of suggestions and places to go once we move to South Florida. The friendly atmosphere at these cooking classes is always the best part of the class…along with the sweet treats I walk away with of course!
The timing for the class couldn't have been better since this was also the night Mizner Park was doing its annual Christmas tree lighting. Not only were all the decorations up on every lamppost and gazebo, but the event brought in food trucks and vendors, carnival-like rides, carolers, and the city shipped in blocks of ice that were shredded down to form a giant pile of snows for the excited Florida kids to pile into for an impromptu snowball fight. This was the best way possible to officially herald in the start of the Christmas season.