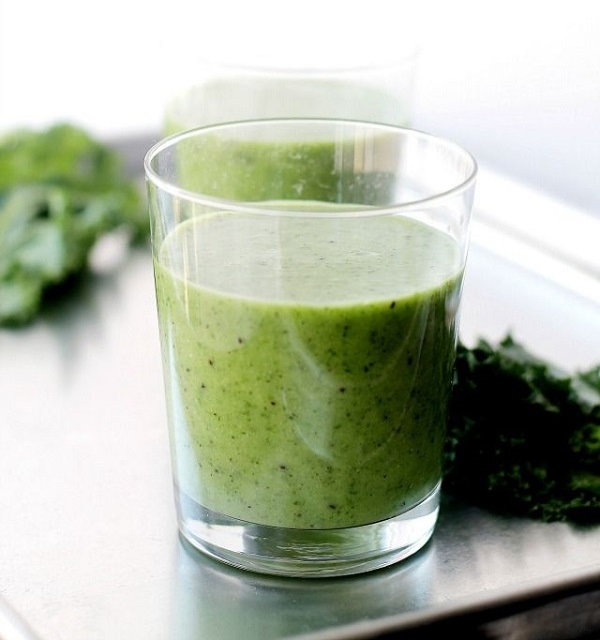 "Life expectancy would grow by leaps and bounds if green vegetables smelled as good as bacon."
Doug Larson
In honor of National Kale Day (I'm pretty sure this day is only being celebrated by myself and maybe a half dozen other people in the country) I am sharing my so-good-it-should-be-bad-for-you-but-it's-good-for-you delicious kale smoothie recipe. For most people, vegetables are not something to get excited over, but rather are endured because we all know they are good for us. The easiest way to consume enough vegetables to pour them all into a smoothie. Once you find the recipe and mix you like the best, this healthy drink becomes a daily treat rather than just being part of a healthy diet.
I've been trying multiple smoothie recipes over the past few months and after several smoothie attempts I finally found the version that is just right for me – pairing the stronger tasting kale leaves with coconut water, two types of fruits, and a refreshing Australian/Colorado yogurt in a mix that is creamy, light and vaguely reminiscent of a green-colored creamsicle.
My recent foray into smoothie making has led me down a path I never want to veer off of – by adding green smoothies to my daily diet I now have more energy, feel stronger and lighter at the same time, and my dry skin has already shown a vast improvement. One of the many benefits to green smoothies is the easy ability to consume a large amount of nutrients and vitamins in a simple format.
Kale is the on-trend superfood of choice lately and it's the best option for making your healthiest green smoothie. This vegetable packs a mean punch because the leafy green is filled essential vitamins, nutrients, and minerals. With just a few sips you consume a large amount of vitamins, feel full, and hydrate your skin. The benefits of kale include defending your skin against the photo-aging process, fortified nails, nourishing your hair, and the elevated levels of Vitamin K help to reduce any bags under your eyes, while this workhouse veggie has also been known to help fight off some cancers. Another highlight to kale is its ability to aid in digestion, detoxifying your body, warding off certain cancers, and optimizing liver functions.
Ingredients :
One 8 ounce coconut water
2 tablespoons plain Noosa yogurt
2 cups frozen kale
1 cup frozen zucchini
1 cup frozen peaches
1 ripe banana
Combine in a blender and blend until a creamy consistency is reached.