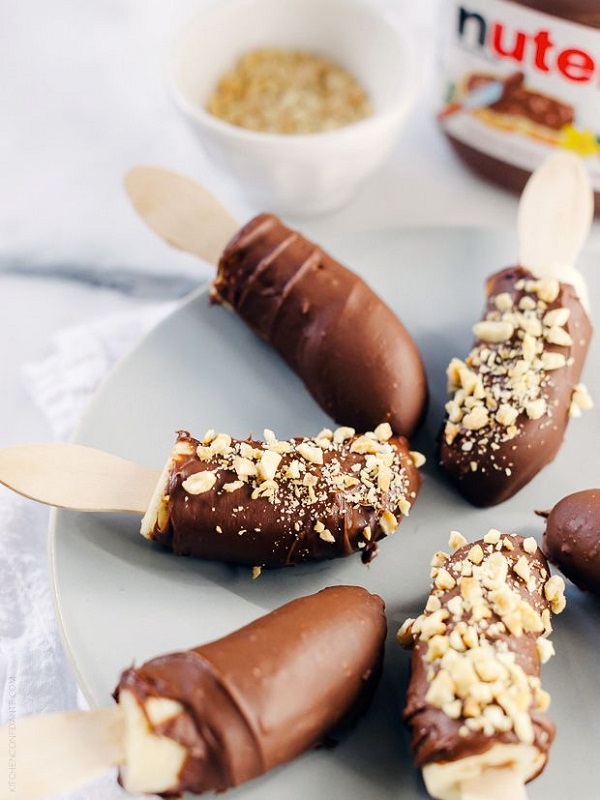 My brother-in-law came to spend the weekend with us recently and I wanted to make a dessert that would be guy friendly, easy to assemble in a short amount of time and light enough for a warm summer night.  I finally decided to create my own version of a summer treat with Nutella-dipped frozen banana Popsicles. It was delicious and by far the easiest dessert to make.
I have to confess to being late on the Nutella bandwagon – I never liked chocolate until 2+ years ago when I did a chocolate tasting tour in NYC when my opinions (and taste buds) were opened to some of the delicious dark chocolate combos out there. Since that fateful day I've been appreciative of chocolate and the wondrous ways it can combine with other flavors.
While living in Paris last September I bought a dark chocolate spread from Angelina's (famed for their amazing hot chocolate and decadent tea room) that I indulged in with my Belgian waffle birthday dessert stack. Given how rich that chocolate spread was and my preference for dark chocolate, I doubted I would like Nutella. And then I tried it a few months ago. I haven't looked back since…it's become a slightly dangerous love affair ever since.
// Recipe \\
Ingredients:
Ripe bananas (firm)
Nutella
Nuts (optional) to sprinkle on top
Baking needs:
Small wooden Popsicle sticks (mine are from the home department at Nordstrom, but there are adorable ones here)
Small bowl for dipping
Wax paper
Cookie sheet
Instructions:
Slice the bananas in half
Spear the cut ends onto the Popsicle sticks
Warm the Nutella (microwave for 10 second intervals) until it is slightly runny but still thick
Dip the bananas into the warmed Nutella several times until achieving an even coat
Lay on a sheet of wax paper (optional – sprinkle nuts on top)
Place in the freezer to harden and store until ready to eat
After one hour the bananas and Nutella were cold. After 3 hours the bananas were frozen solid and the chocolate took on a thicker, more solid texture. The was by far the easiest and most satisfying dessert I have ever made. The simple recipe and steamy hot weather combined with the cold bananas coated in smooth chocolate was the perfect weekend dessert for the guys and for me.