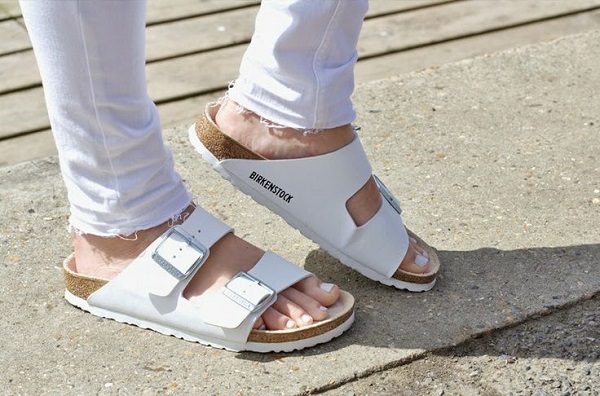 Birkenstocks. De rigueur for hippies in the 70s. The footwear of choice for grunge types in the 90s. Now the go-to choice for today's modern girl.
Whatever your fashion proclivities, this is the shoe to own. The ability to be stylish and comfortable is a rarity in fashion circles. When the opportunity comes along you must grasp it. Birkenstocks sandals meet those requirements; they are on-trend and comfortable.
I originally called Birkenstocks the ugliest shoe, but now that I own the Arizona in white I have to change my tune. The crisp white (more on my love for summer whites here) takes this casual shoe and gives it a sharp, fashionable feel I wouldn't have expected in something so simple. The vegan-friendly shoe with its cork bottom sole has quickly become the optimal shoe choice for fashion lovers.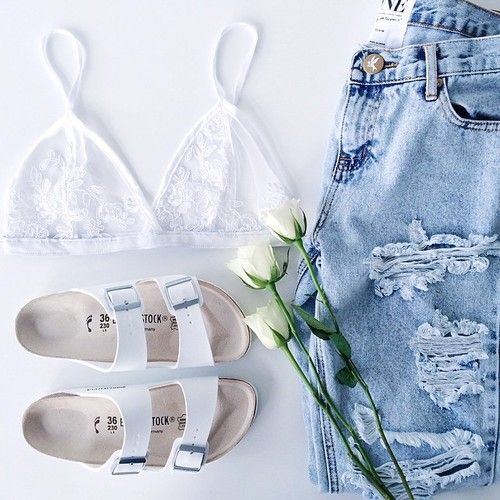 On a style note, these shoes can run the gamut; pair them with your favorite distressed denim, dark skinnies, maxi dresses, flippy skirts, high-waisted shorts, sleek black trousers (more on my favorite pants), or even an all black or white suit for work. The vibe Birkenstocks give off is a touch of casual lux combined with a French girl's easy je m'en fiche attitude.
Another plus for this wide, rather clunky shoe is its ability to make your legs look skinny as a pin. Now that's reason enough to buy every color in my opinion…and I may or may not have just ordered another pair in black.
What do you think of this trend?