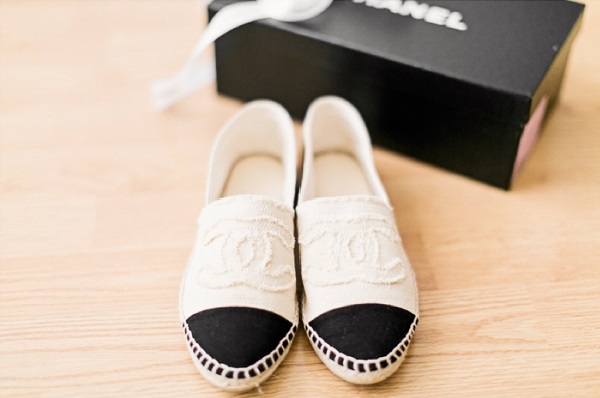 Cotton. 2 year anniversary. Chanel. These three things all combined into the form of a new pair of Chanel espadrilles (and one very happy blogger).
While this is an expensive version of a very casual shoe, the Chanel espadrille is worth every pricey penny.  From fit to fabric to styling, everything about this shoe is what you wish for in the perfect summer shoe. The majority of espadrilles have a harsh interior lining that grates against the soles of your feet due to the rope-like fabric used to make the shoe. The Chanel espadrilles have a slim leather lining on the sides and foot of the shoe for comfort and ease of wearing, along with an equally soft suede lining at the back heel, which makes popping on these shoes a breeze.
The cap sole in black plays off the color blocking style perfectly as it meshes modern with old, giving a distinct look to this rugged canvas shoe. This year Chanel doubled the thickness of the jute sole, which adds a teeny bit of a flatform feel to the shoe as literally and figuratively elevates this flat sandal (I also have last years thinner sole version in the black perforated leather). The thicker sole adds another level of comfort to these already comfortable shoes.
Wearing Chanel espadrilles is similar to wearing your comfiest slippers. I wore mine for the first time this past Sunday for a day of shopping with friends and forgot I was wearing brand new shoes since they fit like a dream the second I put them on. I would only remember when I glanced down at my feet and would see these black and white canvas with double C's peeking back up at me happily.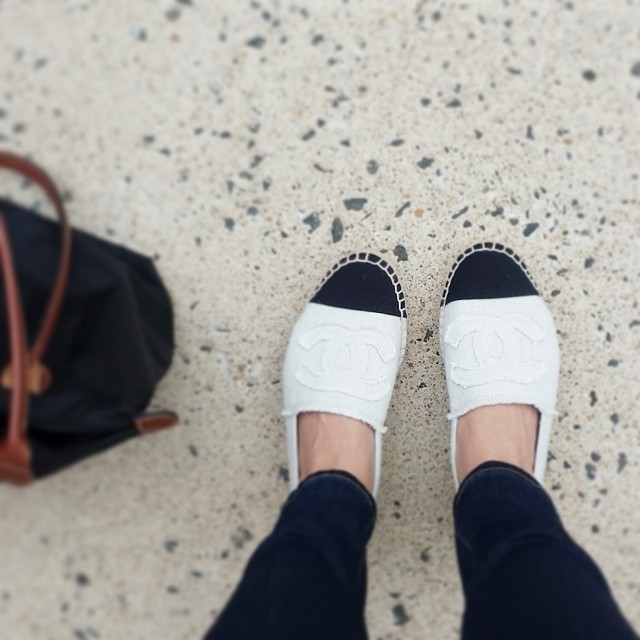 Naturally, I love these Chanel espadrilles so much that now I am coveting an all leather pair. They say the 3rd year anniversary is leather…