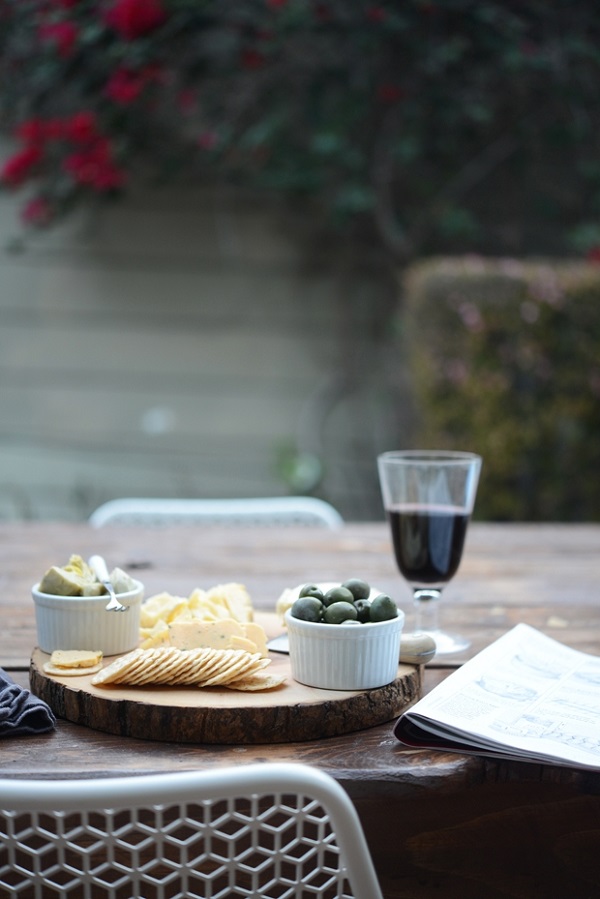 Hot summer days. I crave them all winter long, the sun on my back and the warm breeze blowing in the air. But with the hotter weather comes a need to eat lighter foods. The heat makes the very thought of eating a heavy meal seem exhausting.
I like to eat seasonal as much as possible. Not only is sticking with seasonal fruits and vegetables healthier, it's easier too since Mother Nature has already made all the meal time decisions for you. Another favorite summertime ritual is to eat outdoors as much as possible too. It takes a standard dinner and converts it into a soothing meal, as I sit out in the warm night, soaking up the last rays of the sun and enjoying the quiet early start to the night watching the stars come out.
One of my favorite ways to enjoy a light summertime dinner is to create a small snacking plate. I like to fill it with a couple varieties of cheese, a bit of honey, crackers, olives, and a few fruit slices, along with a simple glass of wine to keep me cool while I indulge in this healthy Mediterranean/French influenced dinner.
What are your favorite ways to eat lighter in the summer?