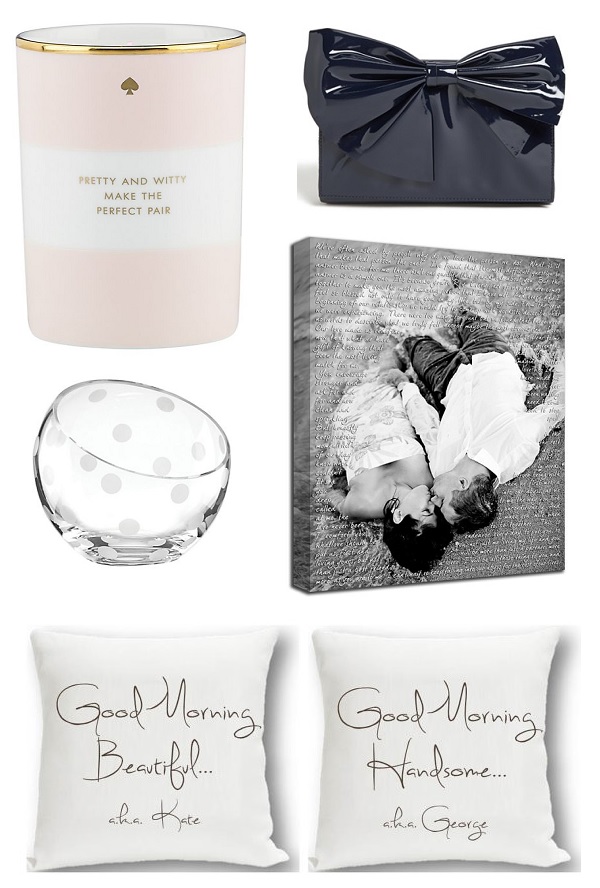 Kate Spade candle//Valentino clutch//Kate Spade glass bowl//Canvas Painting//Cotton Pillow Cases
John and I are celebrating our 2nd anniversary this weekend (!) and I honestly never thought I would like following a traditional or modern gift suggestion, but I've been pleasantly surprised to learn that I love the sentimentality that comes with choosing a gift themed to match the year of each anniversary. It shouldn't come as a surprise though since I do love a theme, whether it's for a party or an outfit so it makes sense I would also love a themed gift for something as important as our anniversary. The concept behind each gift idea gives it that additional touch of thoughtfulness behind each gift that I always search for.
I've been looking into traditional versus modern gift ideas and how to slightly tweak those standard ideas into something a bit more personalized, while also being something I would want to keep for years. Playing off the modern china gift idea has me focused on pretty home decor items in place of basic china, while traditional cotton gifts can be found in a canvas painting or wedding photo with your vows on a canvas background, personalized cotton pillow cases or (my absolute favorite) a canvas Valentino clutch.