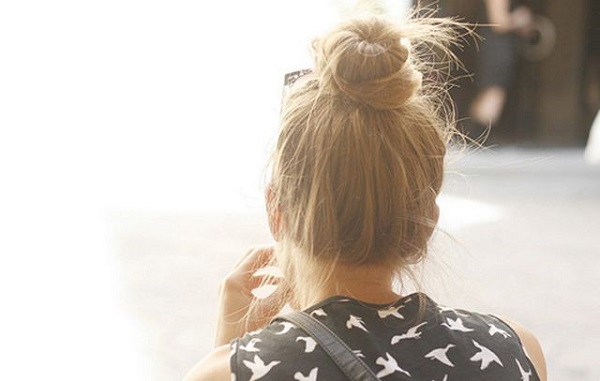 Summertime. Hot hazy days. Lazy afternoons by the pool. Lounging with stacks of magazines. Backyard barbecues. Late night casual dining. Cold glasses of sangria and iced tea.
All these dreamy summer moments are what we look forward to all year long. These moments also combine to bring on a preference for easy hairstyles and my go-to summer hairstyle is the topknot. It's a chic yet relaxed summer hairstyle that is perfect for hot days and nights.
Best of all? Anytime I wear my hair in this style I instantly channel the feel of a modern French girl sipping espresso at a tiny cafe.
Styling this casual hairstyle can be more difficult than it's easy style suggests, but I have a few quick tips that make putting your hair up in a topknot much easier.
Start with dirty hair. Too clean and it won't have that roughed up texture that is preferred for a casual topknot. If you hair is clean spray it with a sea salt spray to give your hair added texture.
Pull your hair into a high ponytail (the higher the better!)
Backcomb your pony to give it extra volume and make hair look thicker and messier
Wrap the pony around the base loosely
Tuck ends into the base with bobby pins. Try to position the bobby pins into the elastic so the bun is more secure (I usually use 4 pins-one in the back, one in the front and one on each side)
Gently pull on a few pieces and then pin them to create a wispy look
Lightly tuck away any rogue pieces but do not smooth. This look is intended to be a slightly messy style (otherwise it would be a neat ballerina bun)
Optional: Looking to add a little more? Pop on a crystal clip at the front of the bun or twist a wire knot head wrap and tie in a quirky bow