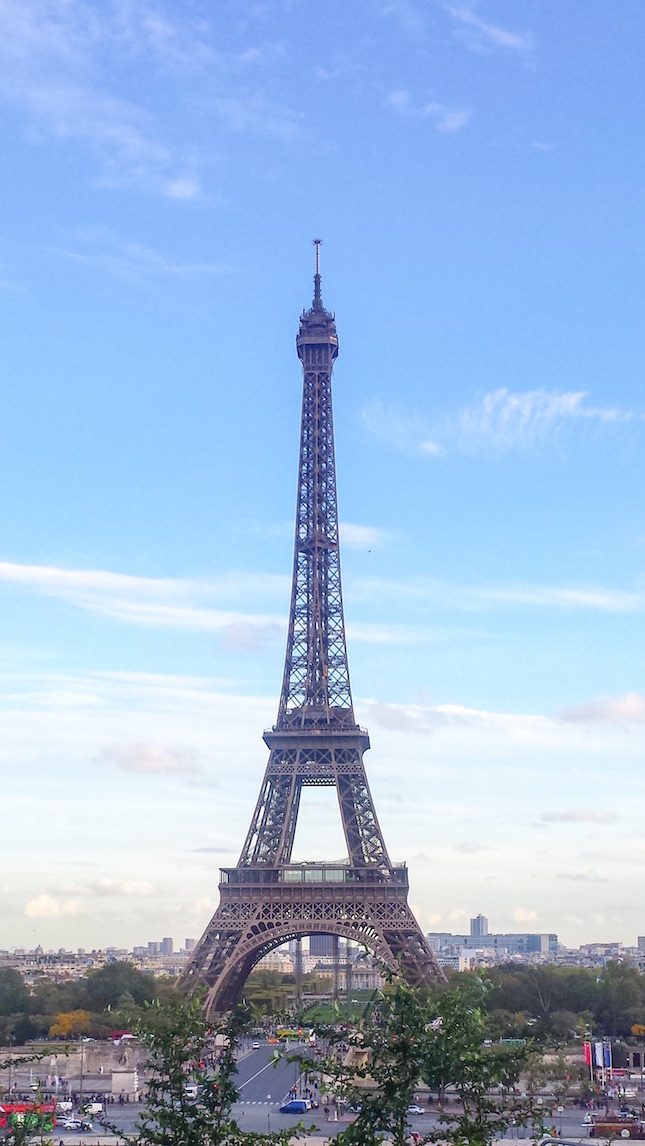 After spending multiple seasons in Paris, walking the city from one end to other every day, I found my favorite places that I repeatedly went back to over and again. These are the places I still daydream about and cannot wait to return to.
This post is a looooong time coming. I have meant to share these beloved places for ages, but I am a terrible procrastinator. We had a really big hurricane threat though, so with the baby asleep on my lap and enough time to list my favorite places, I finally got this list together. All it took was the possibility of a natural disaster!
Sightseeing
Place des Vosges: A perfectly symmetrical park in the heart of the Marais district. It's gorgeous, orderly, and surrounded by delicious restaurants, shops and Victor Hugo's home.
Jardin des Tuileries: By far my favorite of all the Parisian gardens. It's small, but oh so pretty with the Louvre in the background. One of my favorite things to do is to sip a hot chocolate from Angelina's while sitting at the fountain in the center of the garden people watching. In the late spring and through summer there is a gorgeous ferris wheel!
Saint Sulpice: This is an old church in the 6th arrondissement and the fountain outside of the church is one of my favorites. It has the most gorgeous lion sculptures. It's also picturesque spot to rest after walking to Pierre Hermé for macarons.
Trocadero: The perfect viewing spot for the Eiffel Tower and where I took the photo above. If you go for an early sunrise you can avoid the crowds and get some incredible photos.
The Eiffel Tower: No explanation needed! It's worth the wait to go up the tower. You will get the most gorgeous view of Paris and it's simply a must-do for any Francophile. The grassy park under the Eiffel Tower is perfect for an afternoon picnic and be sure to see the Eiffel Tower at night. Those twinkling lights are so pretty!
Montmartre: Known for both the all-white domed Sacré-Cœur Basilica and artists, the hilly section in the 18th arrondissement is the perfect place to get lost and find sweeping views of Paris from its highest points. This area is also filled with quaint coffee shops. I stumbled into one on our first trip and bought the prettiest paintings while the artist sat around a giant table chatting with friends. That experience felt so quintessentially French.
Musée Rodin: I am the worst about museums. I adore the architecture on the exteriors of museums, but once I am inside I am overcome with exhaustion and cannot wait to leave. It's horribly embarrassing! But the Musée Rodin has the exact opposite effect on me. I am energized and excited walking around Rodin's former home that is now a museum dedicated to his work. The art and architecture is beautiful and the exterior grounds, featuring Rodin's famous Le Penseur (The Thinker) is breathtaking.
Notre-Dame: This centuries old church is a must see with jaw-dropping details both inside and out. The long line of people and steep climb to the top are worth the wait and the effort for the view of Paris.
Palais-Royal: Located opposite from The Louvre in the 1st arrondissement and features black and white marble columns throughout the courtyard.
Père Lachaise Cemetery: This tree-lined space is too pretty to ever be morbid and is the burial site for Oscar Wilde, Jim Morrison, and Édith Piaf; famous for her signature song La Vie en rose. 
Parc Monceau: This sweeping park in the 8th arrondissement is picture perfect in every direction. On more thane occasion, The Hubs and I got a bottle of champagne plus some French chocolate for an impromptu date in the park.
Delectable Treats 
Amorino: Delicious gelato formed in the shape of flowers and perfect for an Instagram moment.
Berthillon: The famed ice cream shop across from Notre Dame. They always have a long line, but the wait is worth it. Geta scoop or two in a cone and stroll across the bridge for a quintessential Parisian moment.
Angelina Tea House: The hot chocolate is a must have any time of the year (it is so thick that it's served with water on the side) and the pastries are to die for. I prefer the location on Rue de Rivoli across from the Tuileries Garden.
Carette: Located under the eaves on Place des Vosges, this patisseries serves delicate pastries, but also the best Soupe A L'mignon I have ever had. It's perfect on a crisp fall day.
Pierre Hermé: The BEST macarons you will ever taste. The flavors range from traditional to avant grade. I have had macarons that taste exactly like fall, along with what you would think the color purple should taste like. If macarons aren't your thing (are you crazy?!) then his other pastries are just as delectable. I prefer the Saint Germain location.
Verjus: One of my top five meals ever took place at Verjus. The chef and his wife have created the ultimate mix of our two worlds with fine French foods combined with American concepts. If you can't take it for dinner (or simply want more of their epic food) be sure to go for lunch in the lower level wine bar.
Speed Rabbit Pizza: Yes, pizza! We always stay in an apartment in Paris, so many of our meals are cooked at home, but one favorite to-go is Speed Rabbit Pizza. I am sure pizza in Paris sounds weird, but if you think about how good Parisian bread is then you will understand the appeal.
Ladurée: This luxurious bakery is known for its macarons, but I love to go for afternoon tea or brunch. The French toast is amazing, the pastries are as delicious as they are beautiful, and the pastel colored plates these treats are served on are picture perfect.
Café de Flore: One of the oldest coffee houses in Paris and perfectly situated for people watching, Sit back, relax and revel in being a part of Hemingway's old stomping grounds.
L'As du Falafel: The best falafel you will ever eat and worthy of both the hype and the long lines.
L'Eclair de génie: I never liked éclairs until I had L'Eclair de genie. You have never truly tasted an éclair until you have had L'Eclair de genie.
Les Deux Magots: This famous cafe is a must to experience being at the same cafe where so many literary giants spent their time.
Shopping
Le Bon Marché Rive Gauche: The oldest and grandest department store in Paris with an incredible array of designers. The interior has the most stunning escalators you will ever see that are also a dreamy photo op!
La Grande Epicerie de Paris: This grocery store is next to Le Bon Marché and features decadent food, treats, and goodies from back home if you are missing the random American food staple.
Galeries Lafayette: Another department store, but this one has a price range for every shopper and runs the gamut from clothing and accessories to entire sections of French chocolates, home goods and stationary. They also have an in-house fashion show that you can attend, along with the most stunning Christmas decorations including a massive tree strung from the multi-story windowed ceiling.
Shakespeare and Company: Another famous for the literary lovers, this English bookstore is a wonderful meld of Paris and America that is conveniently located across from Notre-Dame along the Seine River. This tiny shop filled with stacks of books that make the perfect souvenir for the Francophile.
*The cafe opened after our last stay in Paris, so I haven't been yet, but have heard wonderful things about it!
Colette: This concept store carries everything from men's and women's clothing to accessories and coffee table books, along with an exhibition area. While I was there I attended James Franco's art show.
Le Marais and Saint Germain are a dream come true for shopping. Make a plan or just wander from shop to shop. Either way you will find an amazing selection of clothes, shoes, and accessories. My favorite shops in these neighborhoods include Sandro, Maje, Repetto, Vanessa Bruno, Le Labo, Les Petites Parisiennes, and Merci, which is famous for their tiny car parked in the front courtyard. There is also a Sandro outlet in Le Marais that is not to be missed.
Chanel: Even if you don't buy anything, this iconic shop is a must to see.
Dior:  Located on Avenue Montaigne with the prettiest architecture.
Celine: The perfect handbags for minimalists. I prefer the Avenue Montaigne location.
Favorite Neighborhoods
Le Marais, Saint Germain, and The Latin Quarter.