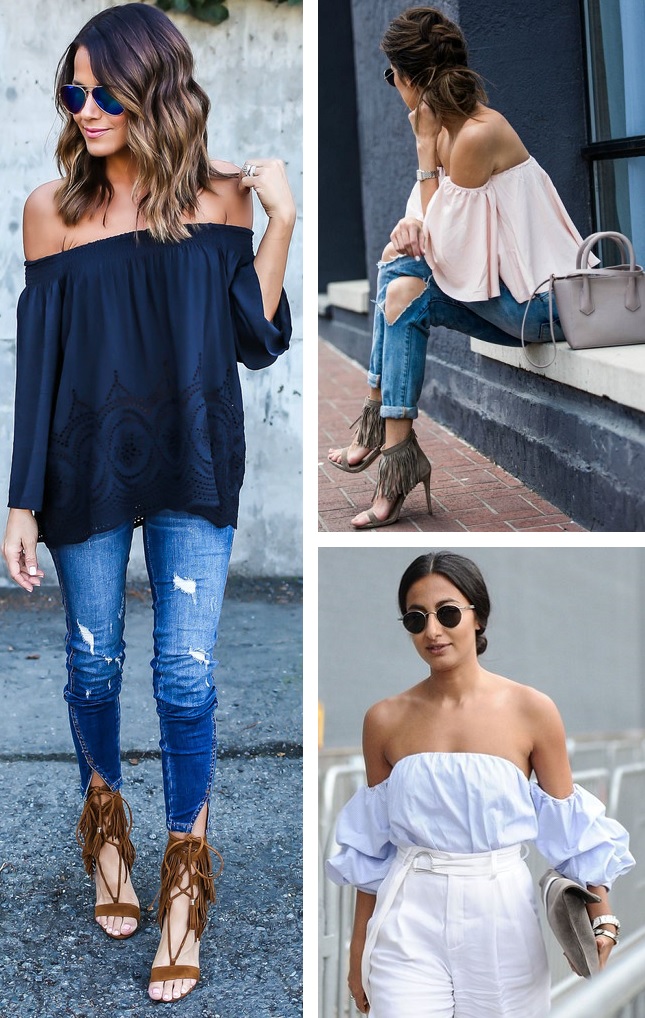 My summer wardrobe wish list is on hold for now since I am very pregnant right now, so I have been living vicariously through my Pinterest postings, daydreaming over my favorite pieces. Because yes, I daydream about clothes. And shoes. And bags! My current pregnancy wardrobe is a rotation of a few classic pieces I stocked up on; fitted dresses to show off the bump, Paige maternity skinny jeans, and a few blouses that run from fitted to breezy.
I am admittedly BORED with my current wardrobe, but because I am nearly 5 weeks away (!) from giving birth I refuse to buy summer clothes. So I'm making due, which pulls painfully at my fashion-loving heartstrings, but I remind myself over [and again] that the money I save now can go towards a fabulous post-pregnancy fit mommy wardrobe…and then I make sure my credit card is safely tucked away before browsing Pinterest again!
At the top of my favorite on-trend summer wish list is the off the shoulder top. I love the subtle skin-baring element that just a glimpse of a sun-kissed bare shoulder brings, along with the breezy cut to these blouses. They are flirty without being over the top. Since we live in South Florida, where it is hot pretty much year round I am hopeful that I can still wear this trend in a few months! What do you think, do you love or hate the off the shoulder tops?
You can see more of my favorite summer styles here.