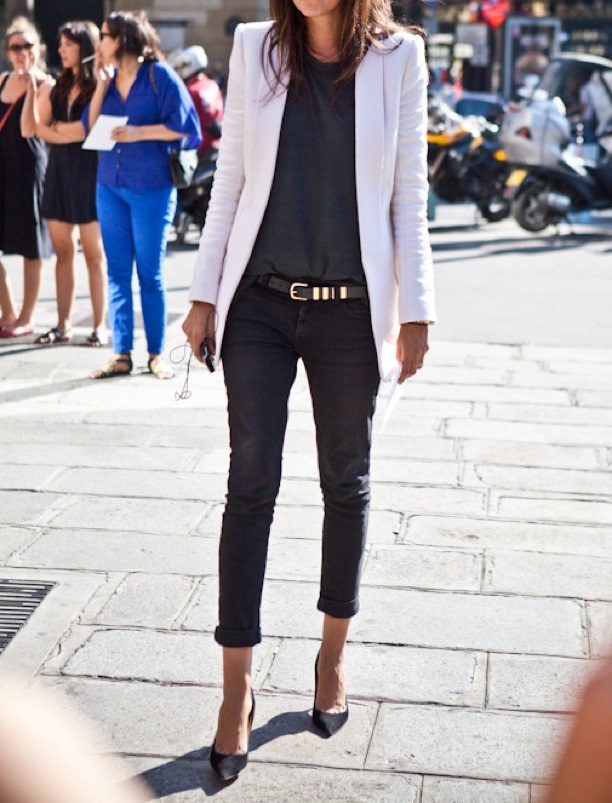 //White Blazer//Skinny Jeans//Black Pumps//Slouchy Tee//
A summertime outfit is often made up of easy, breezy pieces, and with good reason given that once the sun comes out we all want to feel that lightness and warmth in the air on our skin. But even if it's blazing hot outside a white blazer is the perfect topper as it brings that touch of white that every summertime wardrobe needs, while also adding a layer for the indoors against the AC blasting cold and in this case it takes your favorite winter-hued skinny jeans in a wearable direction for the summer season.
A white blazer is a classic, go-to every season must have for any wardrobe to feel that much closer to complete. It's a solid basic that is versatile since it adds that much needed fresh, crisp style to our casual summer clothes. It can be worn with sundresses or rompers, paired with a skirt or cropped pants, over patterns, with fitted or oversized clothing, over a basic tee, and topping off dark grey skinny jeans and sleek black pumps as a summertime alternative.
I do have a slight addiction to a wearing a white blazer, but given that you can wear it rain or shine and it instantly completes any outfit, I think my preference for this wardrobe must is valid. What do you think? Are you on board with my blazer addiction?