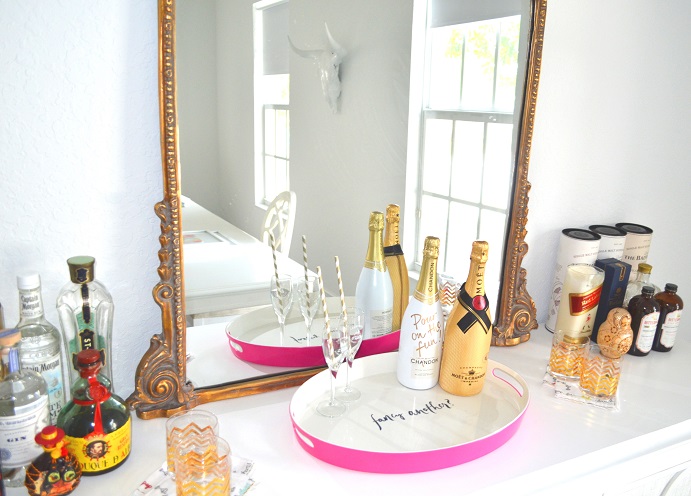 Ok, I'll be honest. We don't have a "bar cart" so much as a bar buffet…but that sounds weird, right? I was absolutely 100% without a doubt positive we needed a bar cart as one of our first home purchases. But then I spotted this buffet and fell head over heels in love. The soft white color, Moroccan detailing and incredible storage made it a must have. So I gave up my bar cart wish (for the moment) and love my oversized "cart" without wheels.
Finding a mirror to put over the bar has been a challenge. The bar space is huge and most mirrors either didn't go with the style or were far too small (or WAY too expensive!). I spotted this mirror on Anthropologie weeks ago and was still thinking about it this past weekend when I popped by my local Anthro on lunch break and discovered the mirror on sale! I snapped a picture and called The Hubs immediately and was thrilled that he liked it too. I think the gold color is gorgeous and the delicate detailing gives it the vintage feeling that I like.
The mirror immediately gave this space that finished look it has been craving and I spent hours happily rearranging every bottle and drink accessory we have to create this bar tablescape. I'm sure it will change as bottles come and go, as seasons change, as home accessories get added and with the holidays approaching I am already thinking of adding some Christmas accents to this space.