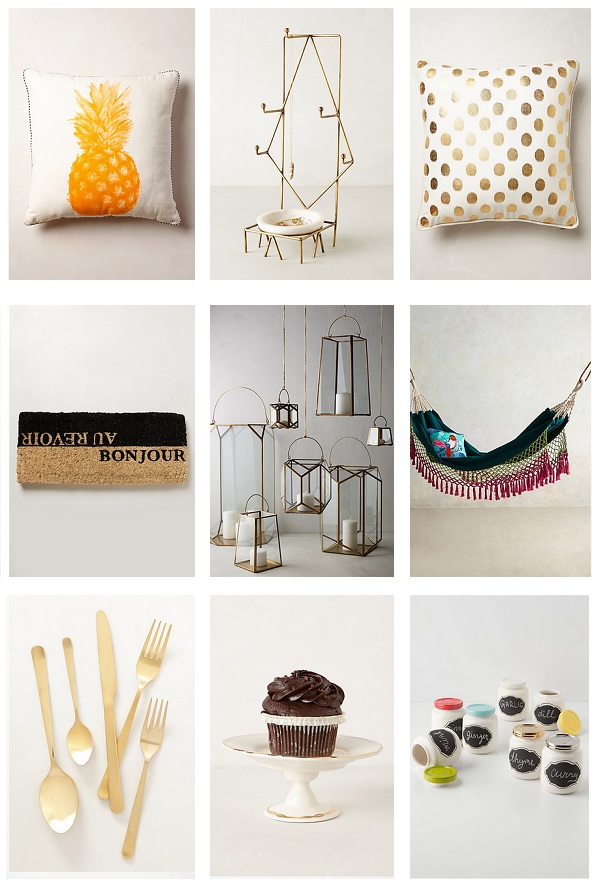 Because I'm fairly obsessed with our future move to South Florida and buying our first house I cannot stop thinking about the little homey things I would love to have. One of my favorite places to shop for home decor items is Anthropologie. They have the perfect mix of vintage styled combined with frilly and delicate with a touch of boho thrown in (all my favorite things).  Whether I'm online or in store I can get lost in their home section for hours, from looking at books to picking out knickknacks I always find some many things I want and these are the ones I am currently loving.
1. Pineapple Pillow give the preppy touch I love, it's perfect for a tropical locale and it's a welcoming symbol
2. Radial Jewelry Stand – The shape is unique and will be striking on top of an all white dresser (also in my future decor needs)
3. Gold Polka Dot Pillow – I can never have enough gold, polka dots or pillows so this pillow is literally a trifecta of my favorites
4. Au Revoir/Bonjour Doormat – My Francophile self needs this
5. Geometric Lanterns – A cluster of these on our future backyard living space will light up the nights with a soft glow
6. Fringe Hammock – Just right for swaying in the breeze on balmy days and nights
7. Gold Flatware – Again, I love gold so gold flatware is a must
8. Cupcake Stand – When I treat myself I like to make a show of it and what could be a better way to indulge than with a plate dedicated to one little decadent cupcake
9. Chalkboard Spice Jars – Just what I need to organize all my random spices and give them a cohesive look
I am also eying these adorable pineapple tumblers, and am hopeful my black thumb will turn green with these chalkboard planters so I can grow my own herbs. See more of my favorite home decor items here.