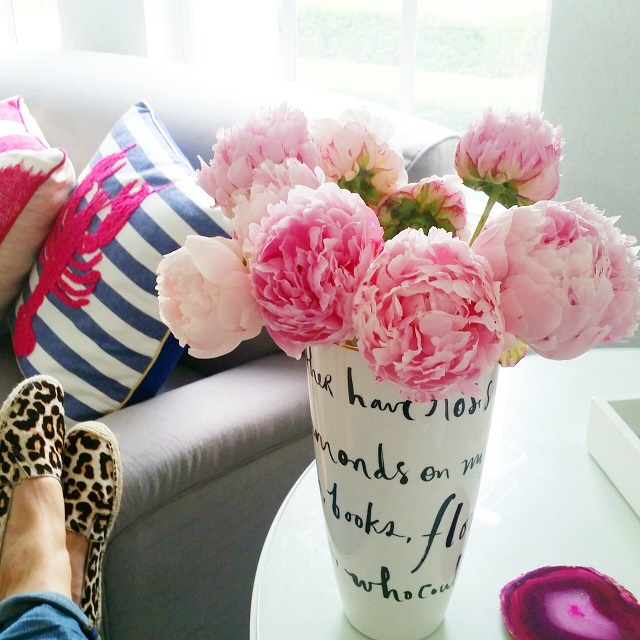 I know I've been sharing some blogs that have been really sad lately, so let's get back to the happy with a little update on our first home! The Husband and I have been moved in for about a month, but it's only over the last week or so that we are starting to feel more settled in. The pretty styled corner above is definitely helping with that content feeling. Kate Spade decor + fresh pink peonies will make me happy every time.
Styling our new home has been harder than I expected. I thought I owned a ton of decorative items, coffee table books and statement pieces and in our tiny previous space I did, but now spread out over actual rooms (dining, kitchen, living + bedrooms) I feel as though there is so little to decorate with. I'm picking up a few things here and there, but it's also such a fine line between decorative items and clutter. I'm determined to make everything we own, whether on display or in a closet to have a purpose and a need.
Unpacking was both a relief and a frustration. I was so excited to get everything out of the bins and boxes they had been stored in for months, but I was really frustrated too. I had this foolish idea that I would have everything unpacked within the first 48 hours of moving in. That didn't happen. At all. It took me three days to figure out just the kitchen! The kitchen also required multiple trips to The Container Store and Sur la Table for storage and basic kitchen needs. We didn't even own a can opener, but now I am absurdly happy over one I found in Tiffany blue. I have also been to Target so many times that I'm convinced the checkers recognize me at this point.
It's been really nice that we had so few things because we get to start from scratch, which means I can pick out each item, from furniture to accessories with care and deliberation. The only problem? I am overthinking every.single.item. It took me three days to buy that Tiffany blue can opener since I wanted it to be the perfect color and style. I am slightly obsessed with making each purchase perfect!