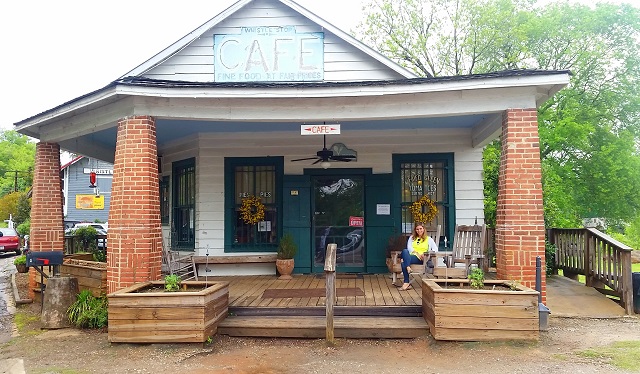 "To travel is to take a journey into yourself"
Over the last few weeks I have been traveling non-stop with multiple road trips in and out of South Florida. One recent destination was a mix of old town sweetness and movie set lore as The Mister and I took a detour to The Whistle Stop Cafe from Fried Green Tomatoes.
It was just a few months ago that I found out The Whistle Stop Cafe from the movie actually existed and I was excited to see what it would look like in person. As we traveled along a tiny back road overflowing with lush green grass and draping trees, with the sound of a train whistle blowing in the background I felt as though I was stepping back in time to a simple, quiet place.
The rain was misting overhead as we arrived in this former town that became a movie set before returning to its original small town roots. In between the rustic scenery of the town we walked along, we popped in and out of shops and found a tiny place selling Georgia wine, along with a shop dedicated to beeswax and honey à la Idgy and her bee charmer ways.
The lure of walking around on what was a movie set mingled with the welcoming people who call this area their hometown was the sweetest way to spend a quiet, rainy afternoon. And yes, we ordered the friend green tomatoes.
One final note on this stopoff – The Mister came up with this idea as a way to distract me from my sadness. We were returning to South Florida from Nashville, following my uncle's funeral. The quiet town, kind people and favorite scenes that kept popping up in my head was just what I needed as it helped to give me some perspective as I recounted the past few days.
In the midst of the sorrow my family and I went through, we also found joy. We recounted funny memories, touching moments and silly things we would do together and remembered him in little ways during the week of the funeral. While the sadness and finality is hard to come to terms with, I know I am incredibly lucky and grateful to have known someone who had such a profound influence and impact on me.