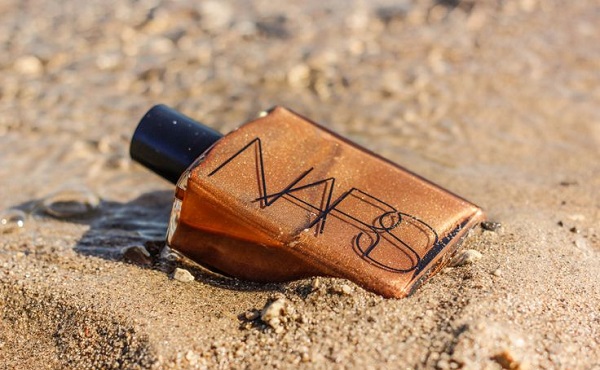 The warm weather that calls for shorts is always difficult for me because I'm…well I'm short. At 5′ 4″ what little height I do have does not come from my legs, but rather from my disproportionately long neck. While a long neck is wonderful during barre classes as I channel my inner ballerina, it does little to help my legs in a pair of shorts, so I've come up with my trick to faking longer legs.
I've tried all lengths and styles of shorts from barely there to Bermuda-esque length. After many dressing room trial and error attempts I've finally settled on a 3″-5″ inseam as ideal, but the real reason I fully feel comfortable in shorts is creating a shiny leg that gives the illusion of longer legs.
Adding a sleek line of shimmer and shine down the center of my legs makes all the difference in the world to my little legs. That simple addition creates a subtle leg-lengthening look as the bronzed glow naturally makes the eye look from top to bottom in a fool-the-eye concept that is similar to wearing skin-tone nude heels.
I shy away from self-tanners (horror stories about streaks and orange hands have frightened me away) and instead use Nars Body Glow.  This products works. It adds leg-lengthening shine to my legs, without being streaky. I dab a small amount on my fingers and draw a tiny line down the center of each leg, blending into my skin. Voilà. In less than two minutes I fake long(ish), slim legs.
Need another reason to add this to your beauty regime? It smells like a summer day at the beach.