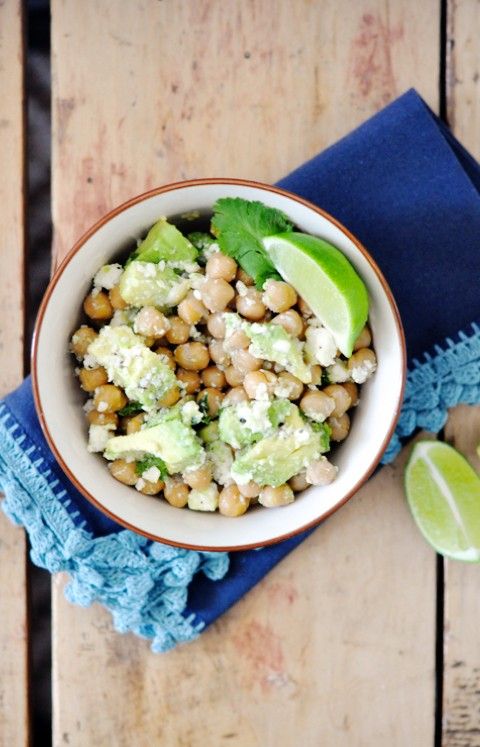 A simple 10 minute meal. Healthy foods. Vegetables. Cooked from scratch. These are all musts in my weekly rotation of recipes. These needs all come together easily with a chick pea salad. Chick peas are one of the healthiest foods to eat. They are a protein and fiber packed bean that is also low in fat and gluten-free.
The recipes with this hard-working bean are endless and my favorite way to eat this delicious overachieving bean is in a salad. A chick pea salad is my go-to side dish all year long, but especially in the summertime as it's light, refreshing, flavorful and (best of all) easy to make. The entire dish takes less than 10 minutes from rinsing and cooking the chick peas to chopping the vegetables. I use a medley of whatever vegetables are on hand, usually a mix of green pepper, onion, cucumber, garlic, parsley, and avocado.
I prefer to think my chick pea addiction is healthy given the good things about the bean. After all, I need some reason to justify the fact that I eat them almost daily with lunch, dinner or both. If I'm not eating chick peas then I am probably eating hummus instead.
Instructions:
Cook the chick peas in a pot with a dash of olive oil until softened
Once cooked pour into a large bowl and mix in the chopped vegetables
Sprinkle with sea salt, cracked pepper, and olive oil to taste
Optional: Crumble cheese on top for a little extra kick of flavor. I use anything from cheddar to Gorgonzola depending on how much flavor I want in the salad and what cheese is currently left over from the previous night's meal.
Once mixed together the salad can be served immediately while still warm or place in the refrigerator to cool before serving. Cooling the salad before serving is my preference as it gives the flavors time to meld together.