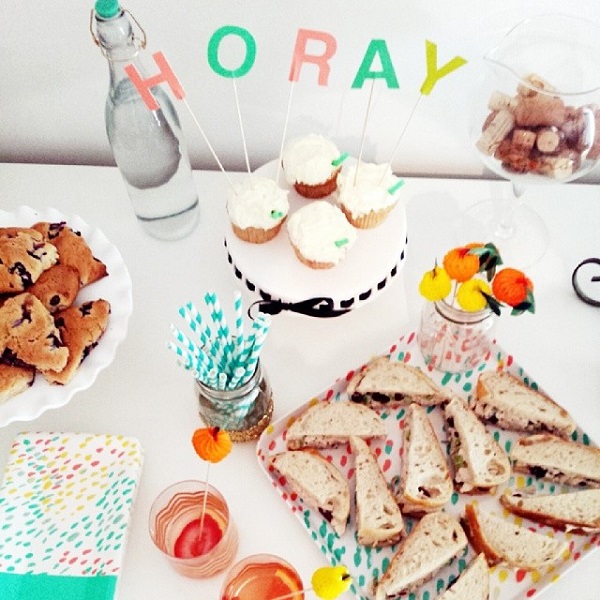 I love to throw a party and this was a mini get together and the perfect excuse to make some new treats and indulge in my love for buying new decorations. I think half the reason I enjoy entertaining so much is the fun of getting everything together…and mixed with the hope that my guests will enjoy the goodies I create for them.
For this afternoon party I wanted a menu that would match the light and fresh feeling of the weather with an afternoon tea vibe thrown in. Obviously, scones and little sandwiches were a must for the menu, along with a fruity drink.
After ages of research (hello Pinterest!) I found the most delicious sounding recipe for blueberry scones. Until Saturday afternoon I had never made any kind of scones. I admit this recipe does take some work, but it was worth it since the end result came out with the lightest, fluffiest, moistest scones I've ever eaten.
For the sandwiches I kept things simple but tasty with a chicken salad sandwich.
Cook the chicken breasts in a dusting of onion and garlic powder, along with lining the pan with a tablespoon of olive oil.
Once cooked allow to cool for a minutes before shredding the chicken.
Add in dried cranberries, chopped celery, mayonnaise, sea salt and cracked pepper (to taste/your preference).
Place the chicken salad mix in the refrigerator to cool for a couple hours.
Once it was fully cold I made sandwiches with freshly baked organic rosemary olive oil bread from my local grocery store. The subtle flavors all played well together to create a light and filling sandwich.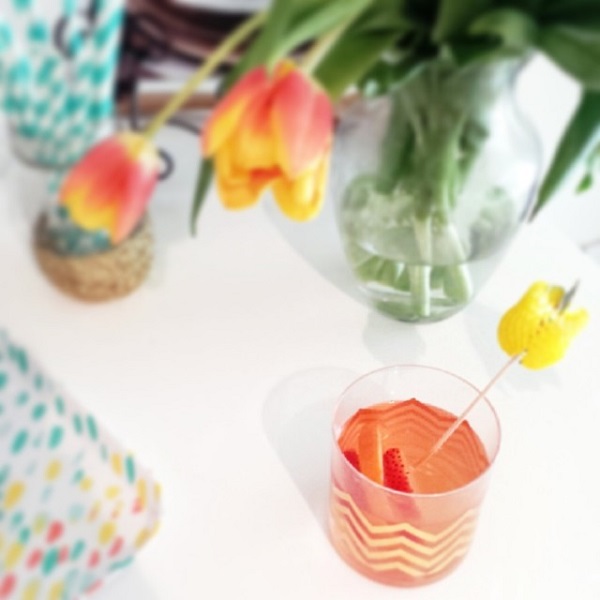 Instead of serving tea, I wanted an alcoholic drink that would feel just as light and bubbly as the weather outside so a fruity white wine sangria was a must. The sangria was loaded with sparkling wine, semi-sweet white wine and fresh fruits to combine for a fresh spring-feeling  drink. It was also the easiest drink I have ever made.
One bottle of white wine (I chose a semi-sweet)
One bottle of sparkling wine
6-8 fresh strawberries (depending on size)
1 large orange
Wash the fruits then slice in chunks or round pieces.
Pour in the bottle of white wine.
Add the sparkling wine.
Drop in the sliced fruits.
I prefer to make sangria at least a few hours before serving (the night before is even better) so that the wines and fruits can fully mix together.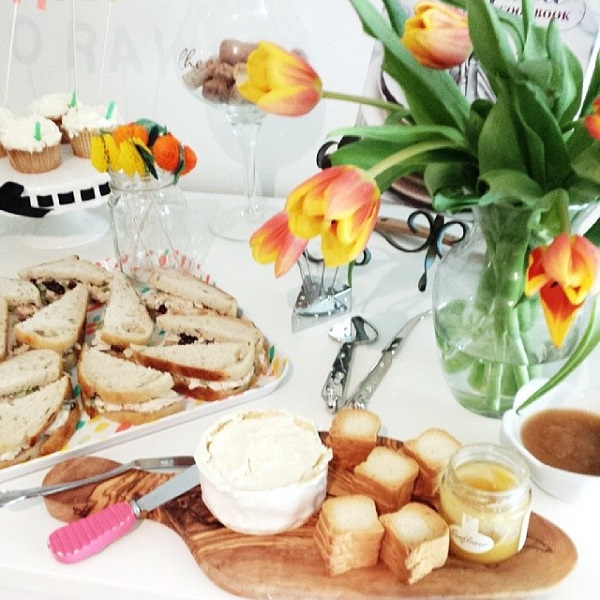 I finished off the treats with my favorite creamy cheese (Prestige de Bourgogne), mini toasts, and sunflower honey.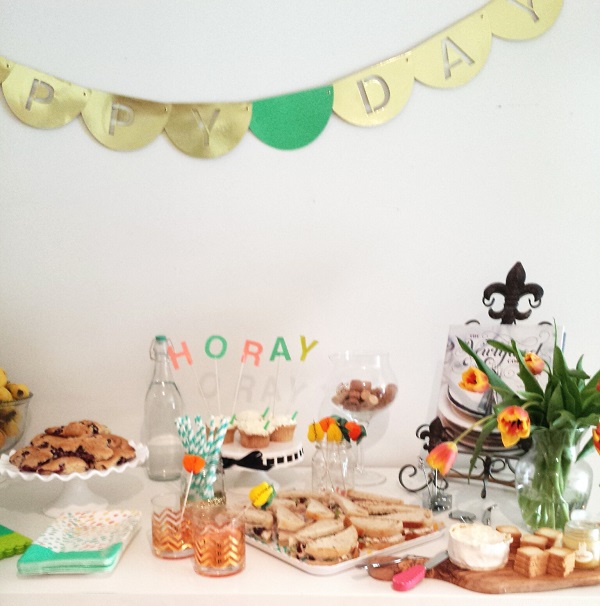 Party decor was a medley of current favorites – C Wonder gold chevron glasses and fruit stirrers, Oh Joy! for Target tray, straws, signage, water bottle and plates. The olive wood cheese board is from Italy. Fresh tulips added a living touch to the decor.