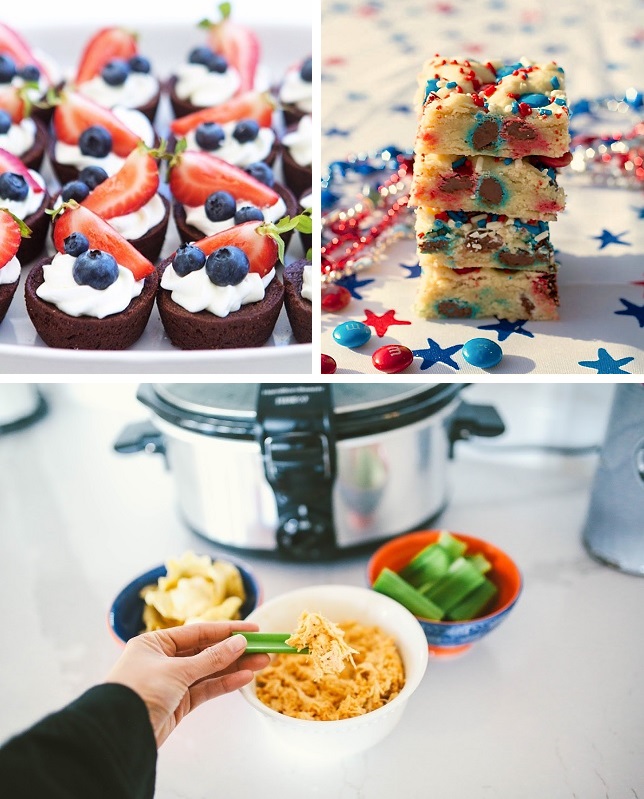 The 4th of July is just days away and with the long weekend ahead I started scouting a few treats and eats to make. I love celebrating the 4th and breaking out all the red, white and blue themed decor (well, mainly blue and white since I'm not big on the color red lol!) and creating a few treats and eats that go with the theme. But I'm really starting to get tired quickly, so EASY recipes are a must at this point! The Hubs and I are planning to stay close to home since I am so very VERY pregnant, but I still want to celebrate as much as we can. 
I found this skinny buffalo chicken dip recipe via one of my favorite bloggers; The Sweetest Thing, and plan on serving it with both veggies to dip and rolls to make it into a sandwich. I also want to make a dessert for The Hubs, but am torn between these patriotic cookies bars or brownie bites. Since it is a long weekend and I adore muffins (seriously, they're right up there with macarons for me!) I'm hoping I have the energy to make these blueberry muffins on Sunday. I made these a few months ago for friends staying over and they were AMAZING. And easy to make! Plus they just scream weekend treat. I plan on mixing in only half the amount of blueberries and adding chopped strawberries to give them a more patriotic vibe. 
You can find more of my favorite holiday treats here and a variety of my go-to recipes here.
Happy 4th of July everyone!