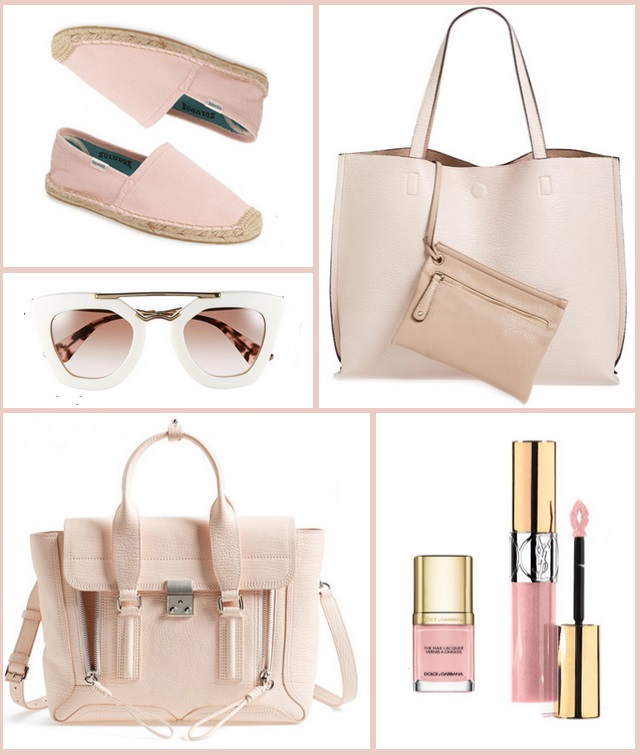 "On Wednesdays we wear pink!" – Karen/Mean Girls
As much as I love a neutral wardrobe, my heart always melts over pale blush-colored pink. That soft shade not only pairs with every color of the rainbow, it also puts a smile on my face every time I see it. Here are some blush pink accessories at the top of my wishlist and an explanation of my shopping justifications.
First of all, I have an obsession with espadrilles. A full on wear them daily espadrille obsession. I know with this Florida heat I should be focusing on sandals, but I have yet to see an espadrille I didn't want to wear and this blush pink pair is an inexpensive pair that I think I may have to purchase this week.
I have loved and longed for Celine handbags since I first spotted the luggage tote that has been all the rage for a few years now. While I never wanted that one (have you lifted it?! So heavy!) I did wish for the Phantom Cabas tote. The Mister surprised me with that tote for my birthday last year and it is the perfect blush pink shade. However, I love this bag so much that I worry about where and when I use it, deeming certain outfits (dark denim!) or locations unsafe for my beloved tote. Does anyone else do this?? I spotted this inexpensive version (under $50!) and think it would be perfect for when I want that casual tote bag style, but don't want to worry about my Celine version being damaged.
While these sunglasses aren't blush pink, they will go with everything from the palest of pinks to darker shades and will be a nice change from my go-to black sunglasses.
About two years ago I saved (then splurged!) for the mini Pashli bag in practical black. I use the bag at least 2-3 times per week, along with bringing it with me to every travel destination and it is still in perfect condition, so the idea of saving up and adding a larger pale pink version is very tempting!
Occasionally, I change things up and get a dark or boldly colored nail polish, but I always return to pale pink. Seeing my nails in various shades of blush always makes me happy and the light color goes with everything. Which is also true of my lip glosses – I have a variety of pale pink shades (usually 3-4 at a time) rattling around in the bottom of any given handbag and this luscious YSL version is next on my list of pink lips.
{Just so you know, I only list and link the items I truly love. About 99% of my shopping comes from Nordstrom – I grew up in Seattle, which is home to the original Nordstrom store and have always loved shopping there. Nordstrom offers a wide variety of brands, styles, and selections, along with price matching and an impeccable return policy. I also love accumulating my Nordstrom "rewards cash" for future purchases!}