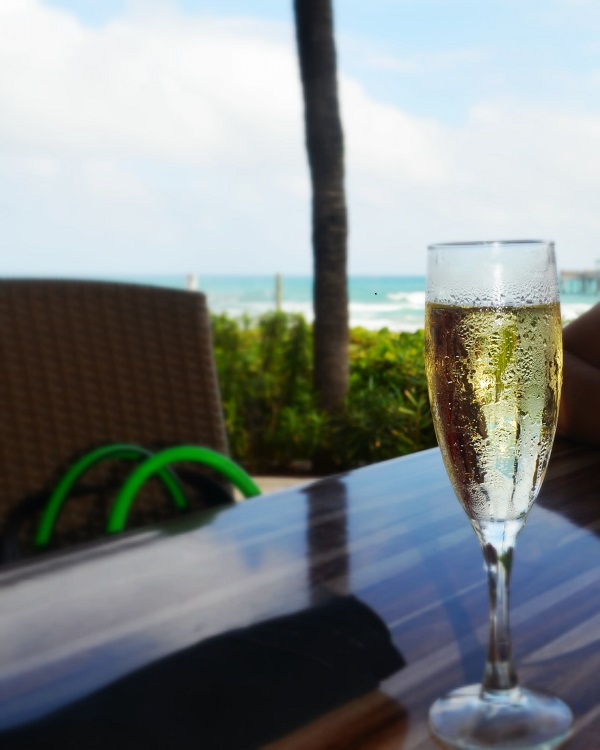 "Oh no! I bought champagne instead of milk…again" – Unknown
Brunch is without a doubt one of my favorite things to indulge in. I rarely have an appetite for breakfast, but once I am set on brunch (really dessert in disguise) I enjoy it wholeheartedly. I have a few musts on how brunch should be though – from location to presentation and on to the food itself. I prefer to brunch in a sweet cafe in the center of Paris with the scent of fresh croissants wafting through the air or on the beach with a soft breeze blowing the scent of salty air.
This was our first visit to Oceans 234 and it was everything my ideal beach brunch should be and a bit more. The location was perfect; right on the beach in a covered porch with a view of the ocean and its floaty breeze, a Sunday brunch menu with just a few choice selections, including the amazing fried chicken and waffles the husband and I both ordered. This was my first time trying this Southern combination and it was incredible – the chicken was moist while the batter surrounding it was as airy as cotton candy. I've never met a Belgian waffle I haven't loved and this light, fluffy version with its berry flavored butter was one of my all-time best waffles.
Of course no brunch is complete without a drink (or two since mine was so good I had to have another!) and the hummingbird cocktail with its mix of champagne and St. Germaine elderflower was just what I like for a relaxing Sunday brunch.