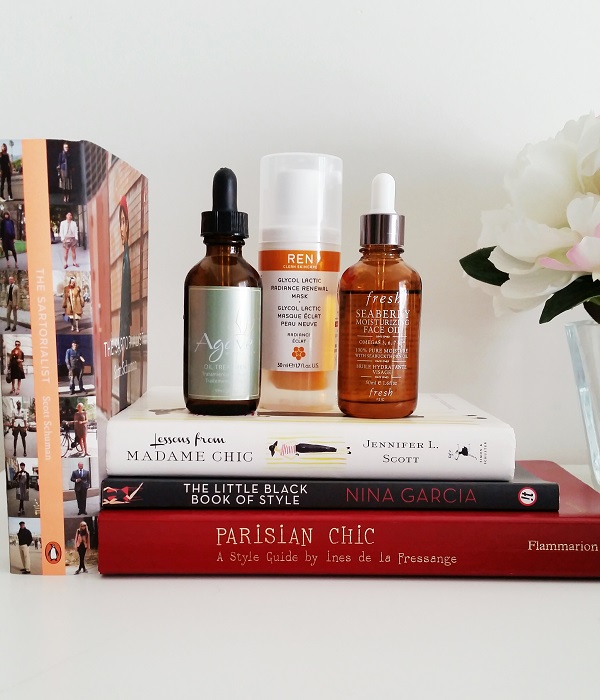 Beneath the makeup and behind the smile I am just a girl who wishes for the world – Marilyn Monroe
With the cooler temps coming along, my skin has already started to feel the shift in weather. As soon as October first came along I could feel my dry skin reacting immediately. I am always on the hunt for that miracle product(s) that will revitalize my skin, bring back that dewy glow that I am constantly hunting for and not break the bank in the process. I am finally on the right track these new beauty buys I have been testing out for the past few weeks.
The Fresh Seaberry Moisturizing Oil has quickly become one of my all-time favorite products. I use it first thing in the morning, touch-ups in the afternoon if my skin is feeling dry and layered at night under a hydrating night cream. The oil moisturizes my face, while also bringing back that dewy glow I have been chasing for so long. One caveat though – it does have a very "natural" scent to it. Because I use a lot of organic products the scent doesn't bother me (used to that all-natural scent at this point!) but others may be overwhelmed by it at first. The husband thought it smelled like gingerbread. But the amount of hydration, glow and dewiness the product delivers makes any scent worth living with.
This REN Radiance Renewal Glycol Lactic Mask is in my weekly must-use arsenal for a more radiant complexion. From the first trial I have noticed a significant improvement in my skin. It is a simple to use product, it doesn't irritate my rather sensitive skin and instantly brightens my face. I use it 2 times a week (mid-week and once on the weekend) every week and have noticed that the skin imperfections I stress over have lessened. It exfoliates softly so I do not feel as though my skin is being ripped off my face, but it still clears my pores so I am breaking out less and my skin looks and feels smoother.
My new favorite hair product is also a match made in heaven in my constant search for hydration. Because I color my hair often, it gets dried out easily and now that my hair is darker for fall I notice the little imperfections more than when it was a lighter blonde. I tried the Agave Oil Treatment (also here as a set) and have become obsessed. The oil is lightly scented like a delicious bit of soft vanilla that wafts in the air as I spread this oil over my ends and work my way upwards. My hair has become softer, more manageable and holds it waves for days now, which has also cut down down on how often I have to flat iron and curl my hair.