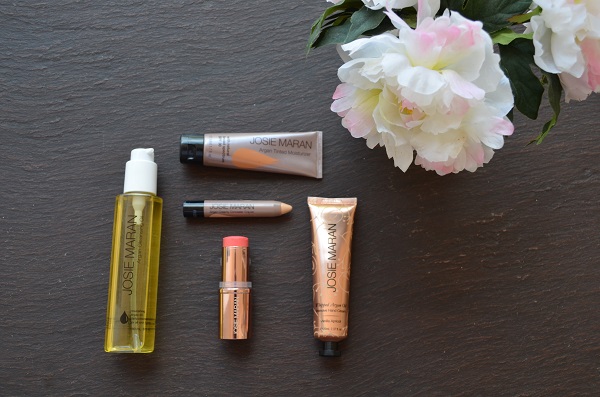 Because makeup literally sinks into my skin I've been trying to be more conscious of the type of makeup I am applying, searching for natural products to add to my makeup arsenal instead of products that are ridden with chemicals. Unfortunately, it's really hard to find good quality makeup that is also natural, lasts for the whole day and doesn't have a nasty medicinal smell to it.
I did a lot of searching for products and multiple reviews touted the entire Josie Maran line so I decided to try out a few items over a two week span.
Argan Tinted Moisturizer – Perfect for dry skin and finishes beautifully, but only if you apply it correctly. I prefer to use my fingers tips and apply directly to my face, but this product works better if I apply to the back of my hand then lightly pat on my skin. While you have to be more mindful with the application due to the thickness of the product, it masks any redness and sinks into skin without appearing heavy or cakey.
Argan Creamy Concealer – The thick pencil shapes aids in easy application and the product goes on smoothly because of its creamy base. I went with a lighter shade in order to use it under my eyes as a concealer, along with using it as a brightener and to contour.
Argan Cleansing Oil – This is technically a cleanser, but because of the oil I use it as an eye makeup remover. I have really sensitive eyes so most eye makeup removers irritate my eyes and rarely remove my black eyeliner. This oil based product is incredible. With just three swipes per eye all my eyeliner and mascara is gone and the sensitive skin around my eyes feels soft because of the oil. But be warned – it only works well if you use it on dry skin. Using it on damp or wet skin seems to dilute the product.
Argan Color Stick – I love a product that has multiple uses and this one is perfect as a creamy blush and tinted lip balm. The product is thick so a little bit is all that's necessary – to apply as a cheek blush I swipe my ring finger across the top of the color stick then apply to my cheeks. One quick swipe is all that's needed. As a lip balm an equally small dab spreads across my lips, adding a soft pink tinge and moisturized feeling.
Whipped Argan Oil Intensive Hand Cream – My skin is extremely dry so I am always using hand creams. L'Occitane is usually my go-to choice, but after catching a whiff of this vanilla scented cream I couldn't resist it adding it to my "trial". The formulation is really creamy, sinking right in and hydrating my skin, it also lasts a long time, and the soft scent isn't overwhelming.
The best part of all was that these products were given a tough test; I used them while we were in South Florida where the sun is intense and humidity can usually cause makeup to melt away quickly. These products held there own through beach days, shopping, afternoons at the pool and dinner with friends. I also feel comfortable knowing that these products aren't as chemical filled as so many other makeup products.