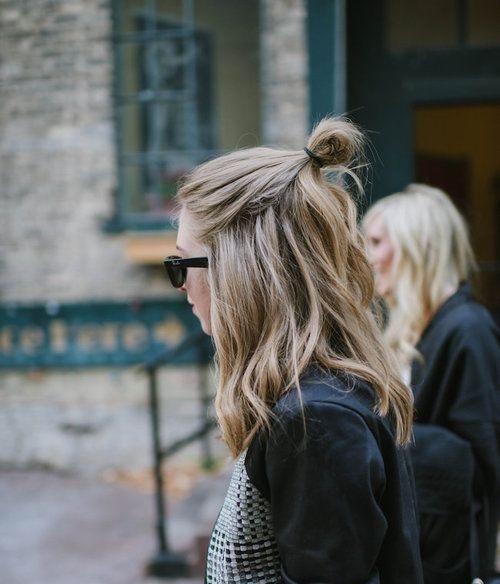 The half-bun style is perfect for lazy day glam styles. It's a newer take on the much-loved messy topknot, with an 'I woke up like this' vibe going on. I did this half-bun for the first time the other day when I was having a lazy hair moment and did not feel like putting in much effort for my hair. I am now addicted to this look and it's surpassing my love for a lazy girl topknot. Subsequently I've styled my hair this way, every day for the last 4 days.
The half-bun is a quick style that can be accomplished in under 5 minutes, works on long, short or summer lobbed hair and the only tool really required is a hair tie. It does help to have messy waves, since this look is best done with beachy waves, but a few spritzes of surf spray and a curling wand for the ends will fix any too straight strands.
I keep the bun low and separate my hair a few inches above my ears, pull the hair back to rest on the crown of my head (where my hair parts) and twist to create a messy bun. The half-bun can either be circled into place like a ballerina bun or pulled halfway through a hair tie like your typical topknot. Once tied I loosen a few strands to give the overall look that lazy girl glam 'I woke up like this" effortless vibe.
I have to confess I rarely put much effort into my hair. I am luckily blessed with hair that naturally attains beachy waves so long as I wet my hair at night and let my hair 'do it's thing' as it dries overnight. About once every 10 days or so I will curl my hair into long, tousled curls and again let nature take over after that for the next week or so. This half-bun is the perfect style since I can be lazy about the bottom half of my hair, while the top half-bun makes it look as though I did put effort in…which is a trick since this is the easiest hairstyle ever!