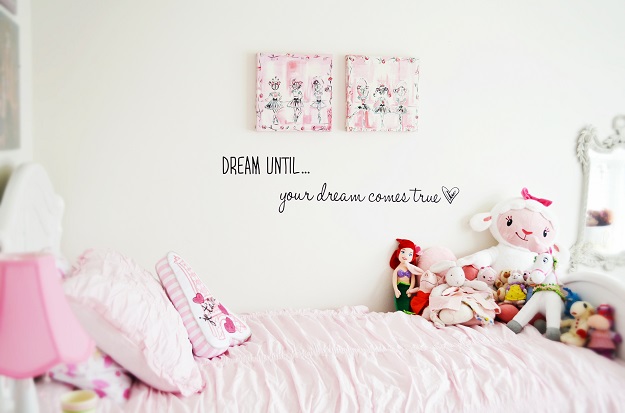 "Never let it be said that to dream is a waste of one's time, for dreams are our realities in waiting. In dreams, we plant the seed of our future." – Unknown
As I shared in this post, I wanted to redecorate my little cousins (ages 10 and 6) before moving to South Florida. We are very close and this move of mine will also affect them, so I wanted to create a haven for each of them in their little spaces. The six year-old is at the girliest of ages; she is very dramatic, loves to dance, sing and daydream, so naturally she wished for a "dreamy" bedroom (described in a breathy voice).
Between her love of ballet and a recent moment when she asked me if the wide-brimmed straw hat she made at a tea party would be fancy enough to wear in Paris, it was obvious she would need a pale pink palette with a mixing of ballet and Parisian touches. I did reassure her that her hat was perfect for Paris and she then asked me if I could take her there one day. As I held back a few tears over her sweet sincerity I readily agreed that one day I would take her to Paris. But in the meantime I would give her a touch of Paris to wake up to each day.
Her reaction over the new bedroom was the sweetest I could have hoped for as she clasped her hands together and marveled at all things pink, ballerina and Paris while also sighing "It's so dreamy…". Too adorable.