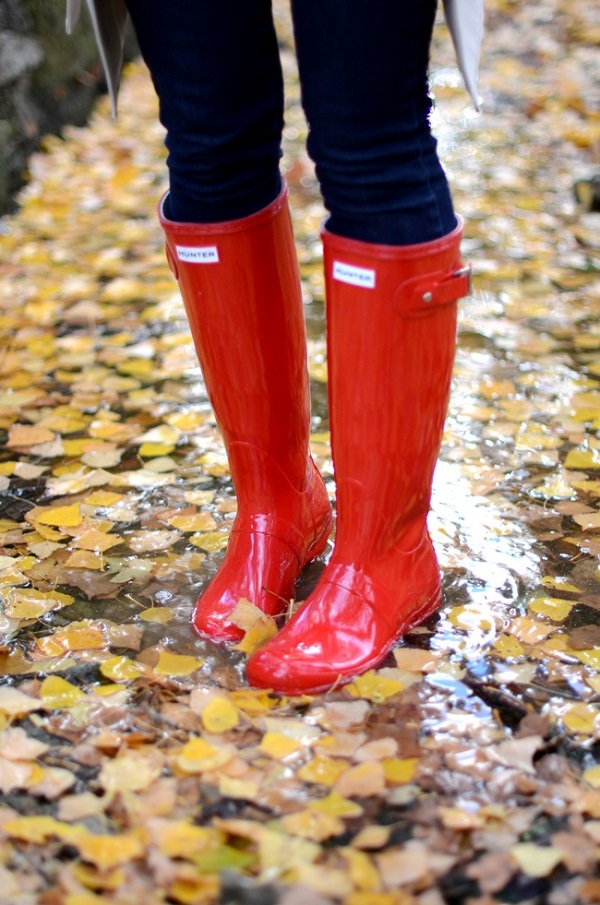 Since the days of Kate Moss waltzing into the Glastonbury Music Festival sporting Wellington boots I've wanted a pair. Unfortunately, I was not graced with model long legs and the 17 inch shaft has made these coveted boots a thing of impossibility for me. Until now. I was looking at the boots again recently when I spotted a newer version with a shorter shaft. The two inch shorter shaft means I can wear these boots I have wished for. While I won't be pairing them with short shorts à la Kate The Great, I am excited for the fall flavored looks I can now put together.
I generally stick to a neutral palette when investing in an item, but I'm skipping my go-to practical shades for a bold glossy red rain boot instead. I normally avoid shades of red, but I cannot help smiling every time I see this cheery shade.
Plus an exhaustive Pinterest search (doesn't Pinterest always suck us in for endless hours?) for color inspiration convinced me to follow my instinct towards the glossy red boots. I can easily wear this bold color as a neutral or highlight it against my favorite pale shaded sweaters, chambray tops, skinny jeans or even camo as I rotate the boots from one look to the next this fall.