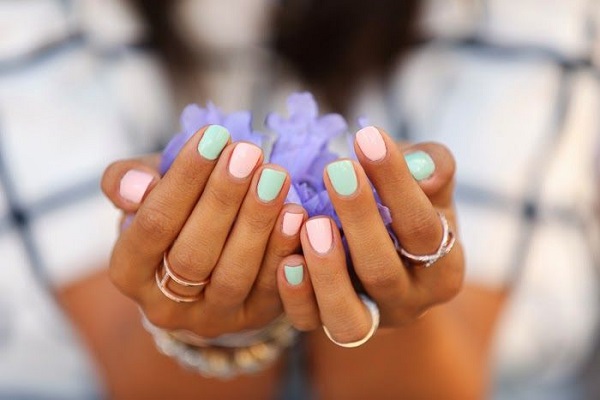 There are a few summer traditions we all stick by and one of those summertime favorites is adding bright pops of neon colors. Whether with our wardrobe choices or a fresh manicure, a touch of neon is always welcomed in the summertime. Lately, I've been putting aside those bold colors for something softer with pastel colored nails.
While these pale hues may initially make you think of Springtime, deliberately avoiding that standard pop of neon for a pale shade gives your manicure a fresh appeal as we head into August and the last month of summertime. Using these softer shades in the late weeks of summertime is light, fresh and unexpected.
These pale colors give nails a slightly chalk look that juxtaposes nicely against pale or tanned skin. No Baggage Please and Mint Candy Apple (along with Play Date) are my go-to sorbet-influenced colors. Add a little spice to these sweet shades with a multitude of gold rings for an extra contrast against the softness of these pastel polishes.