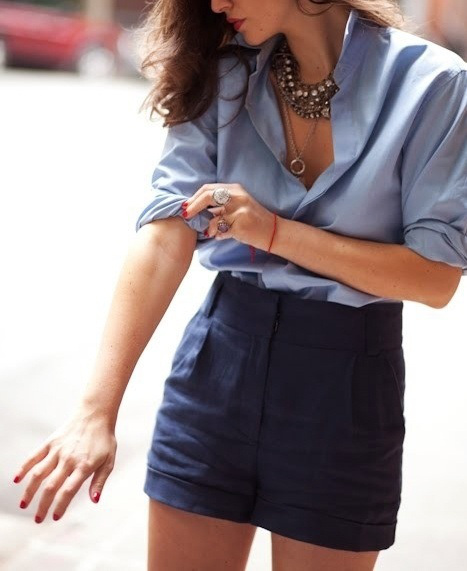 Have you ever noticed how some people just seems to have an innate ability to cuff their sleeves with a certain je ne sais quoi type of flair? Adding a simple cuff to your sleeves gives any outfit an extra hint of style and I've got an easy way to add that style in just 3 steps.
I have a tendency to lose track of time while in my wardrobe as I go through lookbooks, fashion magazines or online websites trying to replicate the styling tricks used in these settings with my own clothing. Luckily, this obsession of mine has helped me to fine tune my eye towards the little styling tricks that give a big impact.
Cuffing your sleeves with style in 3 easy steps:
1. Start with a fully unbuttoned sleeve rolled down to the wrist
2. Instead of making multiple small cuffs, cuff the sleeve halfway up your arm all the way to your elbow.
3. Roll the remaining bottom half of the sleeve (roll, don't cuff) up to the bottom of the cuff that is folded across your elbow and smooth over the seam so the seam is hidden. This creates a cuff that looks as though it was considered and deliberate, but not overly so.
I like my sleeves slightly scrunched so after creating the "cuff roll" I will usually push the sleeves up my elbow a bit more to tighten the effect of the "cuff roll" while also giving off the scrunched, relaxed vibe I like my looks to have.