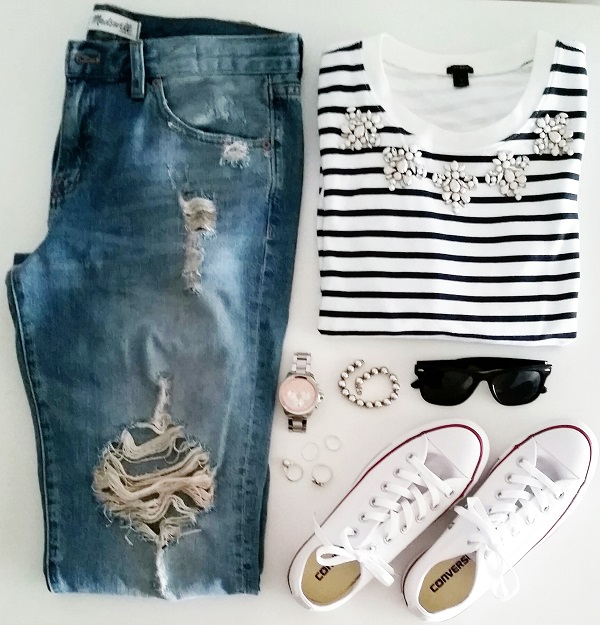 Labor Day is supposed to mark the end of summer, but those carefree days summer days won't be going away too soon since DC has been hit with a heat wave that looks to last at least through the first week of September. Which is good (more sunny days!) and bad since I was ready to fully embrace fall with both new and old favorite sweaters and layers.
I had to quickly change up my original layered outfit for today and decided on a few classic American favorites – stripes, distressed denim, touches of silver jewelry, and white Converse sneakers.
As much as I love a classic ballet flat, loafer or ankle bootie, I am a sneaker girl at heart. While I cannot get enough of the current slip-on trend (see more here) I always go back to Converse. I still remember getting my first pair of Chucks (in hot pink of course) as a little girl and my love for this classic shoe has carried on whether I'm living on the West Coast, South East or in Europe.
This shoe style can be paired with nearly every article of clothing in your wardrobe; with a trench coat for an ingénue feel, a moto jacket or leather leggings for a bit of tough-rocker girl style, skinny denim or beat up boyfriend jeans for a casual feel, or a classic All-American denim jacket. Whatever the outfit, Chucks carry over easily from one ensemble to the next.
I often remember a place based on the shoes I was wearing at the time and my beloved pair of Chucks evoke memory after memory as I wore them for over five years, including multiple trips to Europe (they became makeshift hiking shoes in Italy and Switzerland!).
Unfortunately, I went to pop those favorites on a couple weeks ago and saw it was time to retire them. I had worn the shoes so much that the sides cracked! Timing was on my side though since I found a new pair (two actually) on sale for $75.  I quickly scooped up the classic black and white low top versions and am excited for the new adventures these shoes will be a part of.